International News
Thursday, 12 July 2012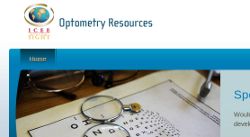 For more than 640 million people worldwide who don't have access to the eye care they need, a milestone has been reached with the launch of the first phase of the International Centre for Eyecare Education (ICEE) Global Optometry Resource, a free online resource for eye care education. With the resource available to all, it makes eye care education accessible – a leap forward for those in developing and remote communities worldwide.
It's a fact that limited access to basic eye care in developing communities is an impediment to the reduction of poverty. And the implications are vast at every level. The cost to the global economy of a lack of access to eye care for those with uncorrected refractive error (short-sightedness and far-sightedness) is $269 billion in lost productivity per annum .
Until now, the lack of educators and teaching material has made eye care education more complicated in the developing world and impacted on the quality of education and on the preparedness of students on graduation to meet the public health challenges. But through the ICEE Global Optometry Resource, access is now available free of charge anywhere in the world.
The platform contains learning materials based on the ICEE curriculum flexibly designed to meet the variations in different developing world contexts. A first of its kind in the optometric industry, the platform creates a highly visible, long lasting footprint in the development of eye care across the world for new and established schools.
An open source educational platform for optometry, the resource gives the world access to the core teaching and learning units of an optometry degree program in a downloadable format and enables educators and students to access course notes and PowerPoint presentations made available by some of the finest optometric educators in the world. A truly global collaboration by educators from all over the world.
ICEE Global Programs Director, Prof Kovin Naidoo, also Africa Chair of the International Agency for the Prevention of Blindness (IAPB) and Associate Professor at University of KwaZulu-Natal, introduced the resource in Chicago at the World Council of Optometry global conference: Advancing Optometry Worldwide, during his opening keynote address, stating that the resource is integral for the development of the necessary human resources to drive access to eye care.
In the phase one release, the first seven modules are now available for use as stand-alone courses or integrated as sub-units into new or existing classes. Phase two of the resource will be available in October 2012. Phase three in 2013, will see the last modules released with additional supportive resources. The platform is also expected to become interactive as a cross-cultural didactic network where users can participate on collaborative partnerships and online community forums that will bring optometric education and support to user's desktops everywhere.
To see the ICEE Global Optometry Resource go to: optometry-resources.icee.org