Australian News
Wednesday, 20 November 2013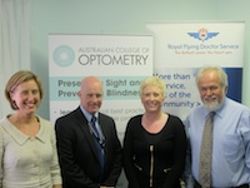 The Australian College of Optometry (ACO) has launched a new Mobile Eye Care service. It brings to the remote Ouyen and District much needed eye care.
The Mobile Eye Care service is a partnership between Royal Flying Doctor Service (RFDS) Victoria, the Australian College of Optometry (ACO) and MTH&CS (Mallee Track Health and Community Services). Under the program, optometrists from the ACO will fly to Mildura and then use a RFDS Mobile Eye Care vehicle to travel to Ouyen and surrounding communities. As well as using the rooms at MTH&CS, ACO optometrists will take eyecare and education out to community centres such as kindergartens, schools and aged care facilities. Mobile Eye care started with the first optometrist's visit on Thursday and Friday Sept 19 and 20 With 15 appointments, the service was fully booked and patients were very appreciative about being able to access free optometry services in Ouyen.
The Mobile Eye Care optometrist also visited Ouyen pre-school, educating children about eye care and the importance of reporting any problems they may have with their eyesight, particularly when reading. RFDS Victoria Chief Executive, Scott Chapman, said the Flying Doctors were committed to taking health care to areas with limited access to these services. "Currently, the nearest optometry service for people in and around Ouyen is in Mildura – which can be difficult to access, particularly for elderly people or those with impaired vision."
The ACO Chief Executive, Maureen O'Keefe said the new service will enable the detection and management of eye disease, leading to a reduction in vision impairment. In addition, the service will also supply affordable spectacles. "The service has had a great start – and we're delighted to be able to broaden our primary health care services in the Mallee," said Lois O'Callaghan, Director of Community Services from MTHCS.