Product News
Tuesday, 15 May 2012
A few months ago, theo launched the limited Hierro sunglasses collection by Tim Van Steenbergen in black-and-white. Now, theo has something else in mind...it's all about colour. The front in acetate contrasts with the plastic or metal – depending on the model – temples. The ZEISS sunglass lenses provide optimal protection for the eyes. And for the first time, theo is also including polarized lenses in the collection. Of the eight colour combinations available per model, two come with polarized lenses.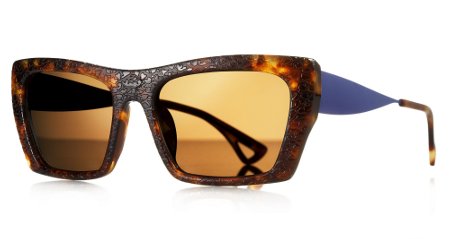 Colourful 'fiestas patronales'
Every Spanish village or town holds an extravagant annual festival for the local patron saint. The scene is set especially by the colourful costumes, flowers, balloons and a variety of market stalls that bring the street to life! And theo always loves a good party! So it was high time to apply this riot of colour to the latest theo by Tim Van Steenbergen sunglasses. What better names could theo choose for the six models than those of Spanish patron Saints?
Collection Tim Van Steenbergen
The Northern Hemisphere's spring/summer 2012 clothing collection contains much more colour that we are used to from Tim. Bright green trousers, bright blue details and coloured areas that contrast with each other. The 1920s (Bauhaus) and the 1980s (Dr. Martens in all kinds of colours) are strikingly present. This is also expressed in the glasses collection. Especially in the combination decorative vs. tough, mat vs. shiny or a decorative element next to a solid colour.