02 Dec 2021
Wearable Diagnostic Solution For Visual Defects Receives Innovation Award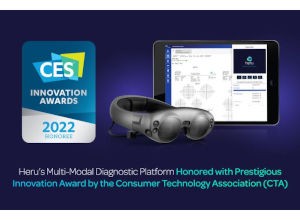 Vision diagnostics and augmentation company, Heru Inc. has been named a CES® 2022 Innovation Awards Honoree in the Virtual & Augmented Reality category for re:Vive™ by Heru™, the company's multi-modal, wearable diagnostic solution used to screen and diagnose visual defects. The announcement was made ahead of CES 2022, the world's most influential technology conference, which will be held January 5-8, 2022, in Las Vegas.
"On behalf of eye care professionals around the world working to preserve eyesight, we are honored to receive such a prestigious award," said Mohamed Abou Shousha, MD, PhD, Heru's founder and CEO. "re:Vive by Heru improves access to vision care and provides physicians with a single, space-saving diagnostic, health and wellness tool which has revolutionized how screening and diagnosis for visual defects is performed in eye care."
Heru developed its re:Vive platform in partnership with the University of Miami's Bascom Palmer Eye Institute, the U.S.'s leading eye hospital. The platform features patented vision diagnostics software on commercially available AR/VR head-mounted displays. CES selected Heru's innovative technology from a record number of submissions—more than 1,800—to recognize with this year's Innovation Award.
"Globally, approximately 450 million people are affected by visual defects caused by strokes, glaucoma, age-related macular degeneration and other disorders," said Maurice R. Ferré, MD, CEO, Insightec and Chairman of Heru's Board of Directors. "Yet the decades-old standard of care is immobile, bulky, expensive, and requires a skilled technician or clinician to operate, limiting patients' access to care. Limited access means that millions of individuals suffering from visual defects remain undiagnosed, causing irreversible damage to their eyesight. Heru's technology brings us into an era in healthcare where improved access is no longer a goal, it is the new reality."
Heru recently announced the expansion of their diagnostic platform to include three new testing modalities which enables physicians to perform 6 vision diagnostic, health and wellness exams, supported with 5 reimbursable CPT codes, in 1 wearable solution. The expanded platform transforms the diagnostic landscape, eliminating several legacy devices while providing physicians with additional avenues for reimbursement to build practice revenue.
"Heru's award-winning technology enables diagnostic exams to seamlessly be performed anywhere, even in remote locations, with clinical results available in real-time, providing the potential to expand screening beyond traditional eye care practices and points of care," said Kerri-Lynn Primmer Morris, Microsoft's Chief Technology Officer, Healthcare, U.S. Enterprises, and member of Heru's Board of Directors.
Once patients slip on the portable, lightweight headset, the exams are guided by Heru's friendly onboard virtual "personality," which creates an enjoyable, personal experience that teaches, encourages, and supports the patient throughout the process. This frees up technicians and clinicians during the examination so they can tend to their practice, interpret clinical data, and educate patients on their treatment options.
"Screening for visual defects is only the beginning," said Frederic H. Moll, MD, Chief Development Officer, Johnson & Johnson Robotics, Heru Advisor, and Investor. "In clinical development are therapeutic applications which include augmented vision correction. This new, cutting-edge technology will be the first of its kind and will transform the lives of patients with compromised vision around the world."