News
Ophthalmology and Optometry
Friday, 23 January 2015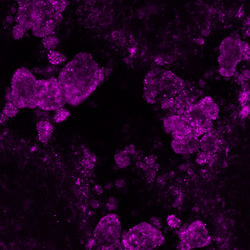 Microscopic spheres of calcium phosphate have been linked to the development of age-related macular degeneration (AMD), a major cause of blindness. The latest research, published in Proceedings of the National Academy of Sciences, has implicated tiny spheres of mineralised calcium phosphate, 'hydroxylapatite', in AMD progression. This not only offers a possible explanation for how AMD develops, but also opens up new ways to diagnose and treat the disease.
AMD is characterised by a build-up of mainly protein and fat containing deposits called 'drusen' in the retina, which can prevent essential nutrients from reaching the eye's light-sensitive cells, 'photoreceptors'. Photoreceptors are regularly recycled by cellular processes, creating waste products, but drusen can trap this 'junk' inside the retina, worsening the build-up. Until now, nobody understood how drusen formed and grew to clinically relevant size.
The new study shows that tiny calcium-based hydroxyapatite, commonly found in bones and teeth, could explain the origin of drusen. The researchers believe that these spheres attract proteins and fats to their surface, which build up over years to form drusen. Through post-mortem examination of 30 eyes from donors between 43 and 96 years old, the researchers used fluorescent dyes to identify the tiny spheres, just a few microns – thousandths of a millimetre – across.
Some of the mineral spheres identified in the eye samples were coated with amyloid beta, which is linked to Alzheimer's disease. If a technique were developed to identify these spheres for AMD diagnosis, it may also aid early diagnosis of Alzheimer's. Whether these spheres are a cause or symptom of AMD is still unclear, but their diagnostic value is significant either way. As drusen are hallmarks of AMD, then strategies to prevent build-up could potentially stop AMD from developing altogether.
For more information goto: www.pnas.org/content/early/2015/01/15/1413347112
Feature Story

Thursday, 22 January 2015

Apple has been granted a patent for an advanced gaze-tracking graphical user interface that could one day see implementation in Macs, iPhones, iPads or even a future version of the Apple TV.

The following description of the patent was submitted:

"The eye tracking system may allow a user of the graphical user interface (GUI) to navigate or interact with various elements in the GUI, such as a word processor, game, web browser, or any other suitable interactive application, simply by gazing or looking at a particular point on a display of the GUI. For example, the user may gaze at a button on the menu bar of a word processing application, causing the eye tracking system to render a cursor over the button. In certain configurations, the user of the eye tracking system may be able to select the button using any suitable input device external to the display device that is presenting the GUI, such as a track pad or mouse. In other configurations, the user of the eye tracking system may be able to select the button using an input device built-in to the display device presenting the GUI itself, such as a capacitive or resistive touch screen. In yet other configurations, the user of the eye tracking system may be able to select the button using facial gestures or voice input.

In certain configurations, the eye tracking system may persistently render the movable indicator wherever the user looks in the GUI. This rendering of the movable indicator may be accurate to the degree that the movable indicator becomes a stabilized retinal image with respect to the user's eyes. As such, the movable indicator may fade with respect to the user's perception of the GUI. In other words, the movable indicator may no longer be visible to the user. In such situations, it is desirable to restore the user's perception of the movable indicator to counteract this fading effect. Accordingly, the eye tracking system may automatically alter the position, appearance, or both of the movable indicator so that it is no longer a stabilized retinal image and can be perceived by the user."

Companies

Wednesday, 21 January 2015

According to Luxottica, its Retail Division experienced in 2014 in Australia a "dual speed performance" from Sunglass Hut and OPSM. On the one hand, Sunglass Hut's comparable store sales grew by 8.5%, with the fourth quarter in line with the previous quarters. On the other hand, OPSM was negatively affected by an increasingly competitive environment, recording an increase in comparable store sales of 1.7% for the full year, reflecting a slowdown in the second half of the year.

Luxottica closed fiscal 2014 with an increase in adjusted net sales of 5.3% (+6.7% at constant exchange rates), to over Euro 7.6 billion. The Wholesale and Retail divisions both contributed to the Luxottica's strong results, growing by 8.6% and adjusted 5.4%, respectively, at constant exchange rates. Ray-Ban, in particular, continued to record double-digit growth. These results were also driven by the performance of Luxottica's major retail chains, especially Sunglass Hut's sustained growth worldwide (total sales +13.5% at constant exchange rates) and LensCrafters' progressive quarterly sales improvement.

Luxottica's Board of Directors also appointed Adil Mehboob-Khan as CEO for Markets and Massimo Vian as CEO for Product & Operations.

Australian News

Tuesday, 20 January 2015

A new computer system, that allows voters who are blind or have low vision to vote independently and in secret, is being used as part of an accessible voting trial by the Electoral Commission Queensland for the first time at the 2015 Queensland state election.

The system, called e-Assist, allows a voter to place their vote by following voice prompts on an audio-enabled computer. e-Assist is available from 19 January at nine polling stations throughout the state including at Vision Australia's Coorparoo head office.

Vision Australia's Liz Jeffrey, Advocacy Advisor said that the trial of e-Assist, and the introduction of telephone voting at this year's state election, was a move in the right direction for providing the blind and low vision community with the same voting experience as sighted voters.

Feature Story

Monday, 19 January 2015

Google insists it is still committed to launching the smart glasses as a consumer product, but will stop producing Glass in its present form and announced the closure of its Google[x] labs' Glass Explorer Program which was a kind of "open beta" for developers. Google further stated: "Glass at Work has been growing and we're seeing incredible developments with Glass in the workplace. As we look to the road ahead, we realize that we've outgrown the lab and so we're officially "graduating" from Google[x] to be our own team here at Google. We're thrilled to be moving even more from concept to reality".

As part of this transition, Google is closing the Explorer Program. January 19 will be the last day to get the Glass Explorer Edition. Future versions of Glass are already planned and the related work will be carried out by a different Google division.
<<

Start

<

Prev

1

2 3 4 5 6 7 8 9 10 Next > End >>


Page 1 of 297