News
Feature Story
Wednesday, 23 April 2014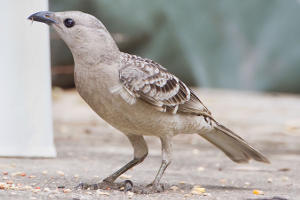 New research has uncovered the visual tricks male great bowerbirds employ to enhance their chances of mating. Professor John Endler, from Deakin University's School of Life and Environmental Sciences (Centre for Integrative Ecology), says researchers know that male great bowerbirds construct a bower to restrict and refine the female's view.
Professor Endler says the bower is made from two semi-circles known as 'courts' which contain uncoloured items. The courts connect via a thatched 'avenue' making a tunnel lined with reddish sticks. Professor Endler studied two populations of male great bowerbirds in the dry tropics of northern Queensland, between 2010 and 2012.
The research, published in Proceedings of the Royal Society B, found that the male great bowerbird withholds objects from the female's field of vision when it isn't actively displaying them. Professor Endler says the birds' behaviour does not directly increase mating success but 'could play a role in attracting and holding the attention of female bowerbirds.'
Australian News

Tuesday, 22 April 2014

Transitions Optical has announced last week the closure of its Australian operations. The decision comes as no surprise after Essilor acquired Transitions Optical and the recent announcement of consolidation and restructuring in the company.

As stated by the president of Transitions Optical, the international optical market continues to evolve, and supply routes of Transitions product into Australia and New Zealand have evolved greatly in recent years. The majority of the product destined for the Australian market is supplied to laboratories in overseas locations. As a result, this has greatly reduced the necessity for a dedicated operation in Australia

Transitions Optical provides plastic photochromic (adaptive) lenses to optical manufacturers worldwide. Having been the first to successfully manufacture and commercialise plastic adaptive lenses in 1990.

Companies

Thursday, 17 April 2014

Michael Kors Holdings Limited and Luxottica Group have announced that they have signed a new and exclusive eyewear license agreement for the Michael Kors Collection and MICHAEL Michael Kors eyewear. The first collection produced with Luxottica will launch in January 2015. Currently, Marchon has the license to produce Michael Kors eyewear.

The partnership with Luxottica will last 10 years. It will allow Michael Kors, celebrated for its luxury accessories and ready-to-wear, as well as its iconic jet set lifestyle, to continue the global expansion of the brand's eyewear business. Luxottica will produce eyewear for both the Michael Kors Collection and MICHAEL Michael Kors lines, beginning with Spring 2015. The brand's two luxury eyewear collections will be carried around the world in Michael Kors stores, department stores, select travel retail locations, independent optical locations and Luxottica's retail stores.

"We have achieved great success in the eyewear business and believe that our new partnership will further enhance our luxury image in the optical and sunglass marketplace," said John D. Idol, CEO of Michael Kors. "Luxottica is the industry leader in eyewear through their commitment to design and quality which makes them the perfect partner for our luxury brand. Our eyewear business is an important component of the overall growth strategy as we continue our expansion around the world."

"We are very excited and proud to be entering this new partnership with Michael Kors, one of the most powerful American luxury lifestyle brands in the world," said Andrea Guerra, Chief Executive Officer of Luxottica Group. "Michael Kors has a major influence in fashion, with products that are exciting to luxury audiences globally. We believe that the Michael Kors' brand proposition, its solid growth and strong performance across its segments, and its innovative fashion design fit perfectly within our portfolio. We are confident that this partnership will have great success."

International News

Wednesday, 16 April 2014

Burlesque performer Dita Von Teese continues to build a name for herself in fashion. Dita Von Teese is an American burlesque dancer, model, costume designer, entrepreneur and occasional actress. She is thought to have helped re-popularise burlesque performance and was once married to musician Marilyn Manson. First, she teamed up with Bloomingdales, an upscale chain of department stores in U.S., for a line of lingerie and now, she is going after her own eyewear line.

Dita Von Teese has signed a deal with Los Angeles-based eyewear company DITA Inc. to produce a signature line that will debut next month in select department stores and chains including Alain Afflelou in France, Italy and Spain. Dita Von Teese Eyewear features 10 styles ranging from classic cat-eye to edgier cut-out metal and acetate frames.

Companies

Tuesday, 15 April 2014

Safilo celebrates its 80-year history by launching a special capsule collection created in collaboration with Marc Newson, which has been unveiled last week during the 53rd edition of the Salone del Mobile in Milan.

Founded in 1934, Safilo pays tribute to this anniversary through the synergy with one of the most versatile and influential designers in the world, creating a line that perfectly combines tradition and innovation, know-how and design – the values that identify this brand.

Among the principal features that unite Safilo and Marc Newson in the project's core vision, are the primary use of state-of-the-art components, the concepts of transparency and transformation, and specifically, the reinterpretation of the past in a contemporary way through the balance between the distinctive approach of this guest-designer and the highest standard of made in Italy manufacturing guaranteed by Safilo.

In particular, the new capsule collection stems from revisiting a historical model personally chosen by Newson and resulting in 5 different variations, through 5 specific materials and technologies, based on the original shape from the Safilo's archive. The assortment will consist of 5 optical frames and 2 sunglasses.
<<

Start

<

Prev

1

2 3 4 5 6 7 8 9 10 Next > End >>


Page 1 of 276