News
Product News
Tuesday, 06 October 2015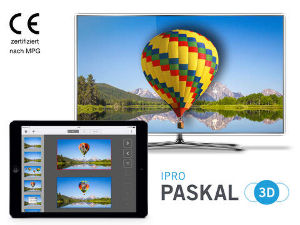 At the recently held Silmo Paris exhibition, German company IPRO introduced its innovative eye examination system PASKAL 3D. PASKAL 3D is a refraction system which enables the optometrist to carry out the complete monocular refraction under binocular conditions. During the whole examination, the patient sees separate images for the right and left eye, the images being separated by circular polarisation. This separation is done in the phoropter and the trial frame via special filters. A 3D-monitor is used to display the optotypes, separated line by line via circular polarisation.
The solution enables the optometrist to carry out the refraction in unprecedented quality and speed. Up to now, refraction meant to test one eye first, with the other covered, then the other way round, and finally, a few tests for both eyes. PASKAL 3D simplifies that process considerably using the latest 3D-technology, and also gives more accurate results than the old system. During the whole test, the patient can relax, looking at a nice scenery, and doesn't notice which of the images are offered to the right eye, and which are offered to the left eye.
IPRO received a nomination for the Silmo d'Or for its PASKAL 3D system at the recent Silmo Paris exhibition.
For more information goto: http://www.ipro.de/en/software/paskal3d.html
Ophthalmology and Optometry

Friday, 02 October 2015

Surgeons in the UK have successfully transplanted eye cells derived from stem cells behind the retina of a patient with wet age-related macular degeneration in the London Project to Cure Blindness. The London Project to Cure Blindness, which was established 10 years ago with the aim of curing vision loss in patients with wet AMD, and is the result of a partnership between the Moorfields Eye Hospital, the UCL Institute of Ophthalmology, and the National Institute for Health Research (NIHR). In 2009, Pfizer Inc. joined the partnership with the goal of helping to turn the original idea into a potential therapy.

The trial is investigating the safety and efficacy of transplanting eye cells (retinal pigment epithelium) derived from stem cells to treat people with sudden severe visual loss from wet AMD. These cells are used to replace those at the back of the eye that are diseased in AMD. This is done using a specially engineered patch inserted behind the retina in an operation lasting one to two hours.

The first surgery was successfully performed on a patient last month and there have been no complications to date. The patient wishes to remain anonymous, but the team hope to determine her outcome in terms of initial visual recovery by early December 2015.

"There is real potential that people with wet age-related macular degeneration will benefit in the future from transplantation of these cells," says retinal surgeon Professor Lyndon Da Cruz from Moorfields Eye Hospital, who is performing the operations and is co-leading the London Project.

The trial will recruit 10 patients in total over a period of 18 months. Each patient will be followed for a year to assess the safety and stability of the cells and whether there is an effect in restoring vision.

Professor Pete Coffey of the UCL Institute of Ophthalmology, who is also co-leading the London Project, said: "We are tremendously pleased to have reached this stage in the research for a new therapeutic approach. Although we recognise this clinical trial focuses on a small group of AMD patients who have experienced sudden severe visual loss, we hope that many patients may benefit in the future."

Professor Sir Peng Tee Khaw, Director of the National Institute for Health Research (NIHR) Biomedical Research Centre based at Moorfields Eye Hospital and the UCL Institute of Ophthalmology, added: "We are delighted to be the site for this very exciting new clinical trial in stem cell therapy, which has the potential to give hope and make such a difference to the lives of people with blinding retinal conditions,".

Professor Philip J Luthert, Director of the UCL Institute of Ophthalmology, said: "The trial has shown the power of collaboration between the University, Moorfields Eye Hospital NHS Foundation Trust and Pfizer in establishing a new treatment paradigm for AMD. The London Project has been funded by large philanthropic donations, government funding agencies, charities, the NIHR and many private donors over the past few years, and Pfizer's commitment has been vital in moving this project forward."

Dr Berkeley Phillips, UK Medical Director, Pfizer Ltd concluded: "At Pfizer we believe that great science comes through collaboration; no one person has all the answers and together, we can achieve more and move faster. Stem cell-derived therapy was only a theory until recent years, and to be part of a project that is applying the latest scientific breakthroughs to help restore patients' eyesight is truly rewarding"

International News

Thursday, 01 October 2015

World Sight Day (WSD) is an annual day of awareness held on the second Thursday of October, to focus global attention on blindness and vision impairment. World Sight Day 2015 is on 8 October 2015. 2015 is the third year of the WHO Global Action Plan.

WSD is co-ordinated by the International Agency for the Prevention of Blindness (IAPB) under the VISION 2020 Global Initiative. The theme, and certain core materials are generated by IAPB. All events are organised independently by members and supporter organisations.

Today, there is an estimated 180 million people worldwide who are visually disabled. Of these, between 40 and 45 million persons are blind and, by definition, cannot walk about unaided. They are usually in need of vocational and/or social support.

The loss of sight causes enormous human suffering for the affected individuals and their families. It also represents a public health, social and economic problem for countries, especially the developing ones, where 9 out of 10 of the world's blind live. In fact, around 60% of them reside in sub-Saharan Africa, China and India.

Approximately 50% of the world's blind suffer from cataract. The majority of the remaining persons are blind from conditions that include, among others, glaucoma, trachoma, onchocerciasis (also known as river blindness) and different conditions of childhood blindness. Despite a half century of efforts, commencing with organized trachoma control activities, the global burden of blindness is growing largely because of the population growth and ageing.

This year, the 'Call to Action' for World Sight Day is: "Eye care for all". IAPB challenges amateur and professional photographers around the world to join in highlighting the impact of eye health in people's lives, by taking part in an International Photography Competition with theme, 'Eye care for all'. Send IAPB your pictures – professional shoots, amateur compositions, instagrams or flickr – with the hashtag, #Eyecareforall by 8 October 2015 – World Sight Day.

Australian News

Wednesday, 30 September 2015

Vision Australia has won an Inclusive Community Champions Award from Spinal Injuries Australia for their role in the go access Vision Impairment Travel Pass trial. Using smartcard technology, the Travel Pass allowed over 40 participants, who are blind or have low vision, to open the fare gates at train stations throughout South East Queensland without the assistance of a station attendant.

Vision Australia General Manager Queensland Karen Knight said that the trial is a great example of how accessibility challenges can be overcome.

"This technology has been successfully used in Victoria. To improve the travel experience for the blind and low vision community in Brisbane, in 2013, we approached the Queensland Government to trial the smartcard functionality," said Karen.

"Following extensive negotiations with stakeholders, including commuters who are blind or have low vision, the Department of Transport and Main Roads, Queensland Rail, industry, and other organisations from our sector, a trial of the Travel Pass began in late 2014."

The trial was welcomed by the blind and low vision community as a move in the right direction for improving the public transport travel experience.

"Being able to control when you can enter or exit a train station without assistance supports our community to retain their independence, and encourages greater public transport use," confirmed Karen.

Brisbane resident and Vision Australia client, Caitlin McMorrow, who participated in the trial said that the Travel Pass allows her to travel the train network with more freedom.

"The Travel Pass creates equal access to public transport. My journeys are easier and I can travel without interruption," said Caitlin.

Feedback from the trial is currently being reviewed by the Queensland Government.

"Our clients who have been involved in the trial have been very positive about the Travel Pass. We hope to see the Travel Pass become standard for members of our community in the future," concluded Karen.

Companies

Tuesday, 29 September 2015

British luxury fashion brand Dunhill has signed an exclusive license agreement with eyewear manufacturer and distributor De Rigo Vision for the design, production and worldwide distribution of the Dunhill-branded optical and sun collection. The distribution network will include high-end opticians and department stores worldwide as well as Dunhill boutiques. The first Dunhill eyewear collection by De Rigo Vision is scheduled to launch at the beginning of 2016.

De Rigo Vision Managing Director Michele Aracri said: "We are very pleased to begin this new and exciting partnership with such a prestigious brand as Dunhill, which is synonymous with elegance and luxury. We will use De Rigo's expertise to develop an eyewear collection reflecting the brand's commitment to quality and heritage with contemporary sophistication of design."

Dunhill CEO Fabrizio Cardinali commented: "We are very pleased to announce our partnership with De Rigo, who with their understanding of our business in terms of aesthetics, impeccable quality and innovation, perfectly combines the values of our two companies. "
<<

Start

<

Prev

1

2 3 4 5 6 7 8 9 10 Next > End >>


Page 1 of 317