News
Australian News
Friday, 04 September 2015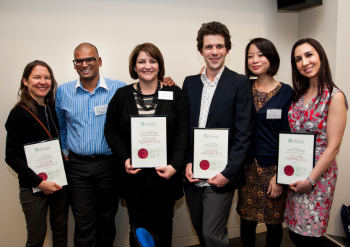 The Australian College of Optometry (ACO) offers a Certificate in Ocular Therapeutics (ACO-COT) and places are still available for the course commencing 14 September. This online course is accredited and on successful completion will enable the prescribing and administering of medicines for the treatment of ocular conditions in Australia and New Zealand.
Already more than 150 optometrists have commenced our Certificate in Ocular Therapeutics since February 2014.The course has proven to be very popular from participants across Australia, New Zealand and overseas. In particular those that require a flexible style of study have found the course to be suitable to their needs. An ACO-COT candidate, who works in a rural practice and juggles family, work and study said: "If I can do it...anyone can!...The study has already changed my approach. It has lifted my confidence immensely and made me a better clinician. As a mum who had to take some time out of the workforce for a while it's a great refresher too".
If you want to become therapeutically qualified but thought you could not complete the course due to your competing priorities, you may find this course to be a suitable option for you.
If you are interested, don't delay! Contact the ACO to discuss the study schedule and enrolment process. Please contact Dr Josephine Battista, ACO Clinical Course Manager, to discuss your interest in the course.
Contact details are as follows:
Telephone: +61 3 9349 7477
Email: This e-mail address is being protected from spambots. You need JavaScript enabled to view it
Website: www.aco.org.au/professional-development
Australian News

Thursday, 03 September 2015

The Optometry Board of Australia (the Board) has announced that the national registration fee for optometrists for 2015/16 has been reduced. The Board has reduced the registration fee to $325, which is $40 less than in the previous year. The new fee will apply from 9 September 2015 and cover the registration period for most practitioners of 1 December 2015 to 30 November 2016. The fee for practitioners whose principal place of practice is NSW is also $325.1

A fee schedule, including the fee arrangements for practitioners whose principal place of practice is NSW, will be published on the Board's website.

The National Registration and Accreditation Scheme (the National Scheme) is funded by practitioners' registration fees. The decision to reduce the fee ensures practitioners are not unduly burdened, but still provides sufficient income to allow the Board to meet its obligations in protecting the public.

Board Chair, Mr Ian Bluntish, said that the Board was pleased to be able to lower the fee for the third year in a row and still fulfil its regulatory obligations.

'We will continue to monitor the costs of regulating the profession in the National Scheme, and with each year of regulation a more accurate picture is forming of the costs to do so, while also protecting the public. The National Scheme has provided a range of opportunities and we continue to review our approaches in the interests of nationally consistent and cost effective regulation,' Mr Bluntish said.

Companies

Wednesday, 02 September 2015

Safilo and Elie Saab, the eponymous Lebanese designer whose elegant and romantic creations celebrate femininity and beauty, announce the launch of the very first ELIE SAAB eyewear collection.

The licensing agreement has been signed today and will run until 2025. The first collection will be available worldwide starting from January 2017 in a selected network of exclusive eyewear specialists and in ELIE SAAB boutiques worldwide.

The ELIE SAAB eyewear collection will celebrate the philosophy of its creators, with sophisticated designs and the finest craftsmanship, showcasing intricate details, precious materials and a lightness that is characteristic of the house. The collections will be crafted in Italy and Japan, using the most refined and qualitative techniques.

Luisa Delgado, CEO of Safilo, comments: "We are delighted to work with Mr Elie Saab and proud of his trust in us. This long-term partnership offers a unique opportunity to create, craft and distribute worldwide exquisite eyewear that represents infinite creative inspiration, timeless elegance and preciousness. With this new brand, we enhance our portfolio and open new opportunities for Safilo to play in the Atelier segment, as outlined by our 2020 Strategic Plan."

Elie Saab adds: "Creating an eyewear collection is a logical evolution that follows the development of our accessories line. In Safilo, I have found a partner of trust able to operate at the highest levels of sophistication, envisioning and then bringing to life my creative vision in wondrous frames of outstanding quality, with the finest materials and details."

Ophthalmology and Optometry

Tuesday, 01 September 2015

For decades, clinicians have detected and monitored diabetic eye disease with standard retinal photographs that cover about a third of the retina. In recent years, an emerging class of ultrawide field (UWF) cameras has given a substantially larger view of the retina, providing new insight on the presentation and natural history of retinal disease. Investigators at the Joslin Diabetes Center in the U.S. now have shown that eyes with diabetic retinal lesions predominantly in peripheral areas of the retina that are seen in UWF images but not in traditional retinal photographs show surprisingly higher risks of progressing to advanced stages of vision-threatening diabetic retinopathy.

If these results are confirmed in a larger trial, they will help to change how diabetic eye disease is evaluated and treated, says Paolo Silva, M.D., staff ophthalmologist and assistant chief of telemedicine at Joslin's Beetham Eye Institute.

The Joslin study began with 100 people with diabetes who had participated in an earlier trial to validate the agreement between UWF images and ETDRS photography in determining the presence and severity of diabetic retinopathy. Observations in this initial study showed that peripheral diabetic retinal lesions are present in over a third of patients and increased the severity of retinopathy in 10 percent of eyes. Based on these initial observations, a follow-up prospective study was conducted in which the initial validation study participants were asked to return for retinal imaging after four years.

This follow-up study demonstrated that eyes with predominantly peripheral diabetic retinopathy lesions during the initial study had more than a three-fold increased risk of retinopathy progression. These eyes also had almost a five-fold increased risk of progression to proliferative diabetic retinopathy, the most advanced form of the disease. The findings held true even after the researchers adjusted for a patient's diabetes type, diabetes duration, average blood glucose levels and other measures.

The Joslin team was not surprised that lesions in the retinal periphery might affect the likelihood of disease progression. "What was a big surprise is how much of a risk this added and how much of the disease was found outside of the area we've traditionally evaluated," says Lloyd Paul Aiello, M.D., Ph.D., Director of the Beetham Institute, Professor of Ophthalmology at Harvard Medical School and senior author on the paper.

A related trial run by the Diabetic Retinopathy Clinical Research Network, which will follow more than 350 diabetes patients across the United States with UWF imaging for at least four years, is now underway.

If the results of the Joslin study are confirmed by this larger study, they will bring major changes for clinical care and research--likely changing the system for rating disease progression in diabetic retinopathy, which is a leading cause of blindness in working-age people.

While UWF devices are in use for regular patient exams in many eye centers and eye clinics, their adoption has been slowed by relatively large size and high cost, with prices in the ballpark of $100,000. Aiello notes, however, that a tabletop UWF system is now available, and he hopes that equipment pricing will drop over time.

Wider adoption of UWF imaging also might have major implications for the telemedicine programs run by Joslin and many other institutions around the world, which aid treatment for underserved populations with diabetes. Many of these efforts already use UWF systems to generate images that are then interpreted by doctors at a remote center. The systems can acquire high-resolution images very rapidly. These high-quality images are more readily evaluated and analyzed more efficiently by experts than conventional ETDRS photos, Silva says.

In addition to studying peripheral retinal lesions in the clinic, Joslin scientists are looking for the causes of the lesions, with one likely suspect being a failure of blood flow in the affected regions. Better understanding of the underlying mechanisms could help improve the ability to judge each patient's risks and eventually lead to interventions "that help prevent vision loss in a more effective or more easily delivered manner than we have today," Aiello says.

Companies

Monday, 31 August 2015

Trussardi, which has been a symbol of Made in Italy excellence and innovation for over 100 years, and Italian eyewear manufacturer De Rigo Vision have signed a licence agreement for the design, production and worldwide distribution of the Trussardi-branded optical and sun collection.

The Trussardi Eyewear collection features a strong and discreet style that gives classic luxury a contemporary and ironic twist. The sunwear and optical lines stand out for their clean and simple profiles; the distinguishing style of Trussardi is conveyed by materials and shapes that create a perfect combination of elegance, comfort and attention to detail.

Michele Aracri, CEO of De Rigo Vision S.p.A., said: "We are very proud of this new partnership with Trussardi, a very prestigious company with a rich history. The result of this partnership is an eyewear collection that stands out for its refined touches of style and design, perfectly combining the values of our two companies."

Tomaso Trussardi, CEO of the Trussardi Group, added: "De Rigo Vision is our ideal partner: both our companies are family-run businesses with the same entrepreneurial approach. Right from the start, we have been able to work together very fruitfully so I am confident that our partnership will be successful and long-lasting."

The 2016 new collections will be distributed through the sales network of De Rigo Vision, which includes the most prestigious optical stores and department stores in the world, and at Trussardi boutiques.
<<

Start

<

Prev

1

2 3 4 5 6 7 8 9 10 Next > End >>


Page 1 of 314