News
Product News
Friday, 22 August 2014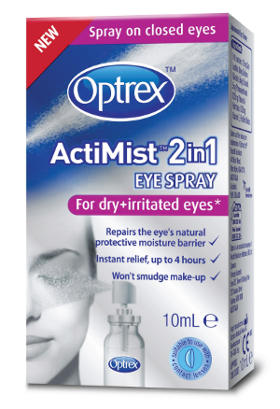 Consumer eye care brand Optrex ActiMistTM has kicked off a $3.5 million dollar consumer advertising campaign to promote the importance of eye care during the upcoming spring allergy season.
The campaign, which runs across various media channels including commercial TV, trade, digital and in-store, aims to drive Australians in-store seeking eye care advice and product recommendation from their healthcare professional such as optometrists.
To capitalise on the consumer advertising blitz, Optrex distributor EYELogic will be providing Optrex ActiMist samples and branded collateral to Optometry practices by request, with products including counter units, posters and wobblers as optional displays.
"The arrival of the warmer weather brings with it a host of environmental factors that for many people can mean dry & irritated eyes*. In approximately 80% of dry eye cases this is as a result of disturbance to the lipid layer of the tear film[1]", said Pim Bolyn, Brand Manager, RB.
"The Optrex ActiMist consumer advertising campaign presents Optometrists with a great opportunity to proactively educate and engage people – both current and prospective patients on dry eye."
Optrex ActiMist is a liposomal spray applied to closed eyes that offers Optometrists the opportunity to provide patients with clinically proven relief in a convenient and easy way.
Optometry practices wishing to place orders for Optrex ActiMist product, collateral and/or samples, can call 02 9371 8884 or use the self-service online portal at www.eyelogic.com.au
For more Optrex product information, visit www.rbhealthhub.com.au/spray
---
* Dry & irritated eyes, due to disturbed lipid layer of the tear film.
Reference:
[1] Dausch D et al. Klin Monatsbl Augenheilkd 2006: 223: 974-983
Australian News

Thursday, 21 August 2014

The University of Technology, Sydney (UTS) has launched its Orthoptics discipline as the newest discipline area within the UTS: Graduate School of Health. A Master of Orthoptics program will be offered from Semester 1, 2015 with applications opening on 4 September 2014. Research degrees will be offered from Spring 2015.

Associate Professor Kathryn Rose who advised on the development of the new orthoptics program at UTS said early identification of some eye conditions meant far worse problems could often be avoided or reduced in impact as we age. Such early diagnosis she said is now being made in a number of health-care settings in Australia, including The Children's Hospital at Westmead - with immediate benefits to clinicians and patients alike.

Now the only orthoptics course on offer in NSW, it has been established to address significant unmet demand for orthoptists in hospital, community and rehabilitation settings across Australia. The program fits UTS' practice based ethos with innovative curriculum design and integrated technology and practical elements throughout. Professor Charlie Benrimoj, Head of the Graduate School of Health said, "There is clearly a strong need for orthoptists and the valuable skills and care that they provide. I'm thrilled that UTS have taken the opportunity to offer this discipline from 2015".

Ophthalmology and Optometry

Wednesday, 20 August 2014

Regeneron Pharmaceuticals, Inc. announced that the U.S. Food and Drug Administration (FDA) has approved EYLEA® (aflibercept) Injection for the treatment of Diabetic Macular Edema (DME). The recommended dosage of EYLEA in patients with DME is 2 milligrams (mg) every two months (8 weeks) after five initial monthly injections. Although EYLEA may be dosed as frequently as 2 mg every 4 weeks, additional efficacy was not demonstrated when EYLEA was dosed every 4 weeks compared to every 8 weeks.

The approval of EYLEA in DME was based on the one-year data from the Phase 3 VISTA-DME and VIVID-DME studies of 862 patients, which compared EYLEA 2 mg given monthly, EYLEA 2 mg given every two months (after five initial monthly injections), or macular laser photocoagulation (at baseline and then as needed). In the DME studies, after one year, the mean changes in Best Corrected Visual Acuity (BCVA), as measured by the Early Treatment Diabetic Retinopathy Study (ETDRS) chart for the monthly and every two month EYLEA groups, were statistically significantly improved compared to the control group and were similar to each other. Across both trials, patients in both EYLEA dosing groups gained, on average, the ability to read approximately two additional lines on an eye chart compared with almost no change in the control group.

Companies

Tuesday, 19 August 2014

Valeant Pharmaceuticals International, Inc. last Friday announced that it has extended the expiration of its exchange offer to acquire all of the outstanding shares of Allergan, Inc. to 5:00 p.m., New York City time, on December 31, 2014. The exchange offer was previously scheduled to expire at 5:00 p.m., New York City time today, Friday, August 15, 2014. All other terms and conditions of the exchange offer remain unchanged.

The depositary of the exchange offer has advised that, as of 9:00 a.m., New York City time, on August 15, 2014, a total of approximately 12,509,606 shares of Allergan common stock were validly tendered and not properly withdrawn in the exchange offer.

In the meantime, Allergan has appointed a new CFO and acquired the LiRIS Program from TARIS Biomedica. The LiRIS Program is currently in Phase 2 trials for the treatment of interstitial cystitis / bladder pain syndrome (IC/BPS). Allergan paid US$67.5 million in cash upfront, subject to certain adjustments and holdbacks.

Companies

Monday, 18 August 2014

Aiming to provide independent eye care practitioners (ECP) with an easy-to-implement method to more effectively enhance the ECP-wearer relationship, as well as drive contact lens category growth, CooperVision, Inc. unveiled its LensFerry™ service. Now in its U.S. beta release, LensFerry allows wearers to quickly and conveniently order replacement contact lenses from any manufacturer via their mobile device, tablet or computer for fast shipment to their homes. Not only does the prescribing practice receive the sales revenue as if the lenses had been ordered in-office, but it also enhances its relationship with the wearer, since all LensFerry communications are customised with the practice's name and/or logo.

The service, which will be part of WebSystem3's EyeCare Prime suite later this year, includes contact lenses from all manufacturers at ECPs' specified prices. Online ordering and fulfillment is easy for subscribing practices and their wearers:

In conjunction with an in-office visit and the selecting and prescribing of contacts by the ECP, a practice enrolls a wearer in just a few steps and verifies the prescription.
The wearer selects from buying options, using available insurance benefits and qualifying for any applicable manufacturers' rebates.
The contact lenses are shipped directly to the wearer's home or business through LensFerry's partnership with ABB Optical, the leading U.S. contact lens distributor.
The ECP can send the wearer custom-branded email and/or text reorder reminders via LensFerry.

If a wearer is not immediately interested in placing a lens order following an in-office appointment, LensFerry can send ECP-customised follow-up messages to encourage enrollment and online ordering, build wearer loyalty and maintain relationships.

LensFerry was developed with hands-on input from a group of U.S. optometrists representing a range of practice sizes and locations. The service's beta launch period is anticipated to take place over the next 90 days, accounting for testing and final design. LensFerry is then expected to roll out to other U.S. practices, with the potential for select international availability in 2015.

For more information goto: LensFerry.com
<<

Start

<

Prev

1

2 3 4 5 6 7 8 9 10 Next > End >>


Page 1 of 286