News
Product News
Thursday, 12 December 2013
Eyewear producer MYKITA has recently launched its latest eyewear collections.
Collection DECADES/ PHILO & PHILOMENE
Material: Stainless Steel
SCISSORS-SHAPED SILHOUETTES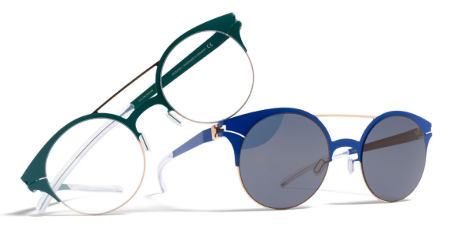 The conscious two-dimensional design of the Philomene and Philo models gives these frames a scissors-shaped silhouette. A defining concept behind these frames was the circle as a geometric element. The combination of glossy gold and silver with a silky matt finish reinforces this impression and emphasises the contrasting frame dimensions. Low-set double bridges and prominent, pinched top corners create a new elegance.
Collection NO 1/ EDMUND & HUDSON
Material: Stainless Steel
FIGHT THE LIGHT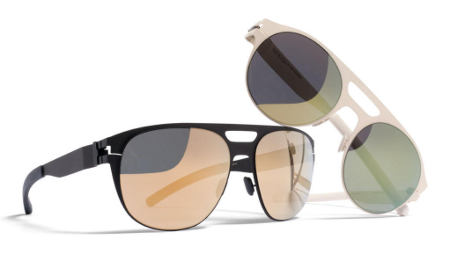 EDMUND & HUDSON combine the sports/casual look with perfect light protection. The duo's design incorporates cues from expansive 1950s frames. Wide temples and a wide bridge avert sunrays from above and the sides, while the snug-fitting browline and nose similarly keep incoming light to a minimum. Bold frame colours combined with mirrored lenses deliver protection and excellent vision: whether viewing distant mountains, the sea or the person sitting next to you.
Collection NO 2/ NADA
Material: Acetate
EXTRAVAGANZA

Testing out materials to the limits of the possible is a labour of love at MYKITA. The NADA model is a classic example. The delicate frame is made of acetate, a material ostensibly associated with the very opposite; acetate frames are normally bold and chunky. This coupled with the eccentric double bridge and the Guadeloupe/Gold Flash colour combination is what lends NADA its flamboyant charm.
Collection NO 2/ OLGA
Material: Acetate
NEITHER ROUND NOR ANGULAR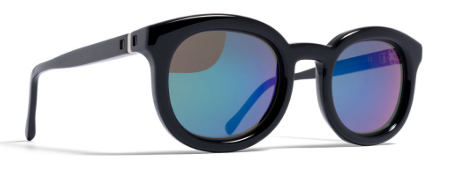 Olga is a statement – neither round nor angular, and if anything probably belonging to the "blowup"category. The extremely full-bodied material used for OLGA gives this model a sculpture-like look. Black, jade-style Misty Green, sky-coloured Misty Blue and translucent Taupe each make their own contribution to ensuring that this model leaves a lasting impression.
Australian News

Wednesday, 11 December 2013

The Fred Hollows Foundation and the National Health and Medical Research Council (NHMRC) have announced a new five year partnership to combat diabetic retinopathy. The National Health and Medical Research Council is Australia's peak body for supporting health and medical research; for developing health advice for the Australian community, health professionals and governments; and for providing advice on ethical behaviour in health care and in the conduct of health and medical research.

Through the partnership, the NHMRC and The Fred Hollows Foundation will support research focusing on diabetic retinopathy by calling for applications for a Centre of Research Excellence. A Centre of Research Excellence is worth $2.5 million over five years.

By 2035 it is predicted that diabetes could be one of the leading causes of blindness. It is already the leading cause of blindness among working age adults. The world is facing an epidemic of diabetic retinopathy which will overload the already inadequate eye care services in poor countries. Diabetes is not like cataract; there is no quick fix. An innovative and collaborative approach is therefore required globally to tackle this huge problem.

Ophthalmology and Optometry

Tuesday, 10 December 2013

Groundbreaking new findings by an international team of research chemists about how cataracts form could be used to help prevent the world's leading cause of blindness, which currently affects nearly 20 million people worldwide.

"That's the dream, and this is a big step," said Rachel Martin, University of California (UC) at Irvine associate professor of chemistry and co-author of a paper featured on the December cover of the journal Structure. "Understanding the molecular mechanism of what goes wrong in the eye that leads to a cataract could lead to the development of better treatment options, including more sophisticated artificial lenses and drugs."

It has long been known that human eyes have a powerful ability to focus because of three kinds of crystallin proteins in their lenses, maintaining transparency via a delicate balance of both repelling and attracting light. Two types of crystallin are structural, but the third – dubbed a "chaperone" – keeps the others from clumping into cataracts if they're modified by genetic mutation, ultraviolet light or chemical damage.

The researchers painstakingly explored and identified the structures of the normal proteins and a genetic mutation known to cause cataracts in young children. They found that the chaperone proteins bind far more strongly to the mutated proteins in an effort to keep the lens clear. One major problem: Every human eye contains a finite number of the helpful proteins. Once they're used up, the researchers learned, weakened ones quickly begin to aggregate and form blinding cataracts. Now that this mechanism has been mapped at the molecular level, the team is hopeful that organic chemists can create sight-saving treatments to prevent such aggregation.

While people with adequate medical care can have corrective surgery for cataracts, the World Health Organization has found that millions suffer major vision loss because they do not have access to laser surgery or other options. By 2019, the number of people older than 50 with impaired sight is expected to grow even higher, particularly in China, India, Southeast Asia and Eastern Mediterranean nations.

International News

Monday, 09 December 2013

The Special Olympics 2013 Asia Pacific Games, held from November 30th to December 7th 2013, has brought together 32 nations from across the Asia Pacific region. Over 2,500 athletes and carers, 6,000 officials and supporters from overseas and interstate and 200,000 spectators converged on the Newcastle-Hunter region for the duration of the Games. Over 4000 local volunteers were recruited to make the Special Olympics 2013 Asia Pacific Games possible.

A key initiative that has been conducted during the Special Olympics 2013 Asia Pacific Games is the Healthy Athlete Program. Athletes partaked in the program across the duration of the Games. People with intellectual disabilities are at a greater risk of developing certain health problems, such as obesity, diabetes and heart conditions, than the general population. The Healthy Athlete Program actively encourages better healthcare and lifestyle choices for Special Olympics athletes. The program has seen volunteer health professionals administer free health screenings and services at major competitions. These services were offered across a variety of health disciplines, including podiatry, optometry, audiology and dentistry.

One of these conducted services, called The Opening Eyes program, is a vision and eye health screening initiative in partnership with the Lions Clubs International Foundation. With the help of volunteer eye care professionals, Opening Eyes provided Special Olympic athletes with prescription eyewear, sunglasses and sports goggles.

Australian News

Friday, 06 December 2013

The book entitled "The Naked Eye - How the revolution of laser eye surgery has unshackled the human eye" by Dr Michael Lawless and Dr Gerard Sutton has been launched. It explains the pros and cons of laser eye surgery in language that everyone can understand.

Dr Michael Lawless and Dr Gerard Sutton are two of the most experienced laser eye surgeons in Australia, recognised by their peers around the world as experts in the field of laser eye surgery. Frequently asked to share their expertise which they do with us in this must-read book, The Naked Eye delivers all the information that anyone requires prior to considering laser eye surgery.

All proceeds from the sale of this very informative read go to The RANZCO Eye Foundation. For more information goto: www.thenakedeye.net.au
<<

Start

<

Prev

1

2 3 4 5 6 7 8 9 10 Next > End >>


Page 1 of 267