News
Product News
Friday, 25 July 2014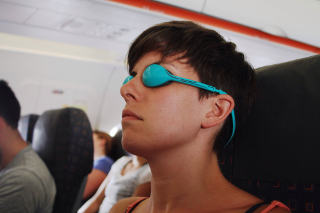 Occles are the brainchild of couple, Hugh Robertson and Lynne McLeod. They first had the idea for Occles in 2011 whilst lying on a beach in Greece. Struggling to rest their eyes in the strong sunlight, they looked around and noticed various methods being employed by fellow holidaymakers to block out the sun's glare. The most common seemed to be a towel over the head! They knew at that moment, there had to be a better way.
Three years on, following extensive market research, and huge efforts to perfect the design and comfort of the product, Occles is really taking shape. Occles are patent (pending) with a registered design and a trademark for the brand. Occles are unique bridgeless eyeshades that wrap around the head and block out all ambient and uv light. The silicone rubber eye seals ensure a comfortable fit and the design helps prevent panda/raccoon eyes.
It is the company's mission to enable you to protect your eyes from the discomfort of UV and strong ambient light, and also reduce eye fatigue. Occles Ltd is a company registered in the UK. Occles is currently undertaking an Indiegogo crowdfunding campaign to raise funds. More info at: https://www.indiegogo.com/projects/occles-eyewear
Product News

Thursday, 24 July 2014

The London Eye Hospital Pharma which is part of the London Eye Hospital group of companies recently introduced a novel surgical treatment of macular disease called iolAMD. This solution, also known as the Hubble Implant, is according to the researchers, potentially the greatest breakthrough in the surgical treatment of macular disease in history. It is the world's first and only micro-incision, injectable, telescopic implant.

Developed by eye surgeon Dr Bobby Qureshi and optical physicist Professor Pablo Artal, iolAMD has the potential to revolutionise the lives of tens of millions of people who currently suffer from reduced vision due to macular disease, including early, intermediate and end stage Dry AMD and diabetic maculopathy. Depending on the visual potential remaining, iolAMD can restore lost vision enabling patients to drive, see faces and read again and thus greatly increasing their quality of life.

For more information goto: http://iolamd.com/

Ophthalmology and Optometry

Wednesday, 23 July 2014

A new study by University of Chicago and University of Geneva researchers suggests the difference between love and lust might be in the eyes. Specifically, where your date looks at you could indicate whether love or lust is in the cards. The new study found that eye patterns concentrate on a stranger's face if the viewer sees that person as a potential partner in romantic love, but the viewer gazes more at the other person's body if he or she is feeling sexual desire. That automatic judgment can occur in as little as half a second, producing different gaze patterns. (Photo : Courtesy of Stephanie Cacioppo)

Previous research by lead author Stephanie Cacioppo, director of the UChicago High-Performance Electrical NeuroImaging Laboratory, has shown that different networks of brain regions are activated by love and sexual desire. In this study, the team performed two experiments to test visual patterns in an effort to assess two different emotional and cognitive states that are often difficult to disentangle from one another—romantic love and sexual desire (lust).

Male and female students from the University of Geneva viewed a series of black-and-white photographs of persons they had never met. In part one of the study, participants viewed photos of young, adult heterosexual couples who were looking at or interacting with each other. In part two, participants viewed photographs of attractive individuals of the opposite sex who were looking directly at the camera/viewer. None of the photos contained nudity or erotic images.

In both experiments, participants were placed before a computer and asked to look at different blocks of photographs and decide as rapidly and precisely as possible whether they perceived each photograph or the persons in the photograph as eliciting feelings of sexual desire or romantic love. The study found no significant difference in the time it took subjects to identify romantic love versus sexual desire, which shows how quickly the brain can process both emotions, the researchers believe.

But analysis of the eye-tracking data from the two studies revealed marked differences in eye movement patterns, depending on whether the subjects reported feeling sexual desire or romantic love. People tended to visually fixate on the face, especially when they said an image elicited a feeling of romantic love. However, with images that evoked sexual desire, the subjects' eyes moved from the face to fixate on the rest of the body. The effect was found for male and female participants.

According to the researchers: "By identifying eye patterns that are specific to love-related stimuli, the study may contribute to the development of a biomarker that differentiates feelings of romantic love versus sexual desire. An eye-tracking paradigm may eventually offer a new avenue of diagnosis in clinicians' daily practice or for routine clinical exams in psychiatry and/or couple therapy."

The research has been published in the journal Psychological Science.

Australian News

Tuesday, 22 July 2014

For the second year running, Guide Dogs has been voted Australia's Most Trusted Charity in the annual Australian READER's DIGEST Most Trusted Brand poll. Based on a survey of 2,400 respondents nationally, Guide Dogs was recognised for its industry-leading services, including providing guide dogs to Australians who are blind or vision impaired for over 60 years. On behalf of Guide Dogs, Dr Graeme White, CEO of Guide Dogs NSW/ACT, thanked the public for their ongoing support and trust.

"We're humbled by and grateful for this level of public recognition in our vital work, which enables Australians who are blind or vision impaired to be more independent," said Dr White. "Vision loss is a challenging disability but our services, including guide dogs and long canes, allow people to realise it doesn't have to be limiting." Dr White added the award was a reflection of the support from the charity's donors and volunteers.

"We wouldn't be in a position to receive this award without the assistance and continued trust of our loyal supporters," said Dr White. "Over the next 10 years it's predicted that more than 2,000 guide dogs will need to be trained to keep up with growing demand from Australians who are blind or vision impaired, at a staggering cost of over $60 million - it's the public's generosity that will make this possible."

Dr White will accept the Most Trusted Charity award on behalf of Guide Dogs at a ceremony in Sydney this Thursday, 24 July.

Ophthalmology and Optometry

Monday, 21 July 2014

A new discovery will make it possible to create pixels just a few hundred nanometres across that could pave the way for extremely high-resolution and low-energy thin, flexible displays for applications such as 'smart' glasses, synthetic retinas, and foldable screens.

A team led by Oxford University scientists explored the link between the electrical and optical properties of phase change materials (materials that can change from an amorphous to a crystalline state). They found that by sandwiching a seven nanometre thick layer of a phase change material (GST) between two layers of a transparent electrode they could use a tiny current to 'draw' images within the sandwich "stack".

Initially still images were created using an atomic force microscope but the team went on to demonstrate that such tiny "stacks" can be turned into prototype pixel-like devices. These "nano-pixels" – just 300 by 300 nanometres in size – can be electrically switched "on and off" at will, creating the coloured dots that would form the building blocks of an extremely high-resolution display technology.

Whilst the work is still in its early stages, realising its potential, the Oxford team has filed a patent on the discovery with the help of Isis Innovation, Oxford University's technology commercialisation company. Isis is now discussing the displays with companies who are interested in assessing the technology, and with investors.

The layers of the GST sandwich are created using a sputtering technique where a target is bombarded with high energy particles so that atoms from the target are deposited onto another material as a thin film.

The research suggests that flexible paper-thin displays based on the technology could have the capacity to switch between a power-saving "colour e-reader mode", and a backlit display capable of showing video. Such displays could be created using cheap materials and, because they would be solid-state, promise to be reliable and easy to manufacture. The tiny "nano-pixels" make it ideal for applications, such as smart glasses, where an image would be projected at a larger size as, even enlarged, they would offer very high-resolution.

The research has been published in the journal Nature.
<<

Start

<

Prev

1

2 3 4 5 6 7 8 9 10 Next > End >>


Page 1 of 283