News
Ophthalmology and Optometry
Wednesday, 16 July 2014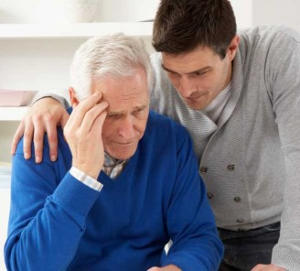 A decreased ability to identify odors might indicate the development of cognitive impairment and Alzheimer's disease, while examinations of the eye could indicate the build-up of beta-amyloid, a protein associated with Alzheimer's, in the brain, according to the results of four research trials reported recently at the Alzheimer's Association International Conference (AAIC) 2014 in Copenhagen. In two of the studies, the decreased ability to identify odors was significantly associated with loss of brain cell function and progression to Alzheimer's disease. In two other studies, the level of beta-amyloid detected in the eye was significantly correlated with the burden of beta-amyloid in the brain and allowed researchers to accurately identify the people with Alzheimer's in the studies.
Beta-amyloid protein is the primary material found in the sticky brain "plaques" characteristic of Alzheimer's disease. It is known to build up in the brain many years before typical Alzheimer's symptoms of memory loss and other cognitive problems. "In the face of the growing worldwide Alzheimer's disease epidemic, there is a pressing need for simple, less invasive diagnostic tests that will identify the risk of Alzheimer's much earlier in the disease process," said Heather Snyder, Ph.D., Alzheimer's Association director of Medical and Scientific Operations. "This is especially true as Alzheimer's researchers move treatment and prevention trials earlier in the course of the disease. More research is needed in the very promising area of Alzheimer's biomarkers because early detection is essential for early intervention and prevention, when new treatments become available. For now, these four studies reported at AAIC point to possible methods of early detection in a research setting to choose study populations for clinical trials of Alzheimer's treatments and preventions," Snyder said.
Clinically, at this time it is only possible to detect Alzheimer's late in its development, when significant brain damage has already occurred. Biological markers of Alzheimer's disease may be able to detect it at an earlier stage. For example, using brain PET imaging in conjunction with a specialized chemical that binds to beta-amyloid protein, the buildup of the protein as plaques in the brain can be revealed years before symptoms appear. These scans can be expensive and are not available everywhere. Amyloid can also be detected in cerebrospinal fluid through a lumbar puncture where a needle is inserted between two bones (vertebrae) in your lower back to remove a sample of the fluid that surrounds your brain and spinal cord.
Australian News

Tuesday, 15 July 2014

The National Boards and AHPRA (Australian Health Practitioner Regulation Agency) have launched refreshed regulatory principles that will underpin the work of the Boards and AHPRA in regulating Australia's health practitioners, in the public interest. The principles are endorsed by all National Boards and the AHPRA Agency Management Committee and will guide Boards and AHPRA when they are making decisions. The principles encourage a responsive, risk-based approach to regulation across all professions within the National Registration and Accreditation Scheme (National Scheme). The principles will further support decision making which is consistent and balanced. AHPRA and the National Boards will be seeking feedback on the principles in a formal consultation later in 2014 and will review them based on this feedback and 12 months experience.

AHPRA states: "The principles adopted by AHPRA and the National Boards are as follows.

The Boards and AHPRA administer and comply with the Health Practitioner Regulation National Law, as in force in each state and territory. The scope of our work is defined by the National Law.
We protect the health and safety of the public by ensuring that only health practitioners who are suitably trained and qualified to practise in a competent and ethical manner are registered.
While we balance all the objectives of the National Registration and Accreditation Scheme, our primary consideration is to protect the public.
When we are considering an application for registration, or when we become aware of concerns about a health practitioner, we protect the public by taking timely and necessary action under the National Law.
In all areas of our work we:
- identify the risks that we are obliged to respond to
- assess the likelihood and possible consequences of the risks and
- respond in ways that are proportionate and manage risks so we can adequately protect the public.
This does not only apply to the way in which we manage individual practitioners but in all of our regulatory decision-making, including in the development of standards, policies, codes and guidelines.
When we take action about practitioners, we use the minimum regulatory force to manage the risk posed by their practice, to protect the public. Our actions are designed to protect the public and not to punish practitioners.
While our actions are not intended to punish, we acknowledge that practitioners will sometimes feel that our actions are punitive.
Community confidence in health practitioner regulation is important. Our response to risk considers the need to uphold professional standards and maintain public confidence in the regulated health professions.
We work with our stakeholders, including the public and professional associations to achieve good and protective outcomes. We do not represent the health professions or health practitioners. However, we will work with practitioners and their representatives to achieve outcomes that protect the public. "

Product News

Monday, 14 July 2014

Carrera is celebrating the iconic glasses of its latest eyewear collections with re-editions of the brand's models that made history: the legendary Champion and Carrera 6000 sunglasses are now presented in a new metal version with a pure design.

CHAMPION/MT
The unstoppable success of the brand's iconic aviator model just keeps going: these sunglasses, which have been showcased in countless ways – featuring a variety of materials, colors and detailing – over the past seasons, are now presented with ultra-flat, slim profiles for Spring/Summer 2014. The new Carrera Champion sunglasses are an inspired blend of metal and stainless steel, for an ultra-lightweight feel and utmost comfort. Satin finishes and mirrored lenses complete the dynamic look, lending a lively, timeless flair to the new model, available in shades of brown with gray lenses, black with black lenses, blue with blue lenses, red with orange lenses.

CARRERA 6000/MT
The Carrera 6000 sunglasses, with their distinctive wavy temples and unmistakable rectangular front that is perfect for any face shape, are reinterpreted in a new, high-tech version featuring an avant-garde design and a stainless steel frame, for an ultra-lightweight feel. A bright, vibrant color palette, ideal for the warm summer months: coral with red or gray lenses, turquoise with khaki lenses, ruthenium with copper lenses, black with black lenses, white with pink lenses, blue with blue or multicolored lenses.

The sunglasses will be available in Australia at the end of this month. More information can be obtained from Safilo Australia.

Feature Story

Friday, 11 July 2014

Researchers from the MIT Media Lab have developed a device shaped like a giant ring, called FingerReader, that can read to people who are visually impaired. After slipping the device on, the user just runs an index finger below the printed text in a magazine, on a business card, or on a menu, for example. A small camera scans the words and the device reads them out loud in real time. Audio cues and a small vibrating motor alerts the user if he or she needs to move to the next line or has veered from the line of text.

The FingerReader is a tool both for visually impaired people that require help with accessing printed text, as well as an aid for language translation. Wearers scan a text line with their finger and receive an audio feedback of the words and a haptic feedback of the layout: start and end of line, new line, and other cues. The FingerReader algorithm knows to detect and give feedback when the user veers away from the baseline of the text, and helps them maintain a straight scanning motion within the line.

For more information goto: fluid.media.mit.edu/projects/fingerreader

Feature Story

Thursday, 10 July 2014

Researchers at The University of Texas at San Antonio have discovered that the current protective eyewear used by the U.S. armed forces might not be adequate to protect soldiers exposed to explosive blasts. According to a recent study, ocular injuries now account for 13 percent of all battlefield injuries and are the fourth most common military deployment-related injury.

In a basement laboratory at Fort Sam Houston military base, the research team has spent the last two years simulating Improvised Explosive Device (IED) blasts on postmortem pig eyes using a high-powered shock tube. So far, they have discovered that the shock wave alone created by an IED, even in the absence of shrapnel or other particles, can cause significant damage to the eyes that could lead to partial or total blindness. Perhaps the most striking discovery is that these blasts can damage the optic nerve, which transmits information from the eye to the brain. Optic nerve injuries occur even at low pressures and could be the cause of many visual deficits, which until now have been associated traumatic brain injuries.

"There has been considerable controversy surrounding whether primary blasts could damage the eye," said a researcher. "No one had shown conclusive evidence before, perhaps because they weren't looking at the problem quite as closely as we have. We had some idea of what to look for based on results from computational models and now we have experimental data that supports this phenomenon."

This research will not only help physicians know what type of injuries to screen for and treat following a blast injury, but also create a reliable model to test various protective eyewear solutions that might prevent or reduce blast damage to the eyes.
<< Start < Prev 1 2 3 4 5 6

7

8 9 10 Next > End >>


Page 7 of 289