News
Australian News
Thursday, 05 February 2015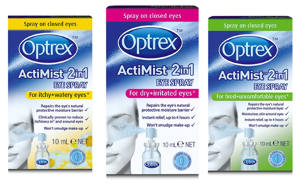 Optrex ActiMist has kicked off a new $6 million dollar consumer advertising campaign designed to encourage Australians to actively care for their eyes, highlighting how modern lifestyles contribute to eye irritation and discomfort. The Bring Your Eyes to Life campaign is currently running across various media channels including commercial TV, trade, digital and social and in-store.
Pim Bolyn, Optrex ActiMist Brand Manager at RB said the multi-million dollar consumer campaign presents a great opportunity for health care professionals such as pharmacists and pharmacy assistants to proactively educate customers on eye care and drive retail sales.
"The Optrex ActiMistTM 'Bring Eyes to Life' campaign is designed to make eye care top of mind for all Australians and demonstrate why adopting a healthy eye care routine is so important in our busy lifestyles in order to keep them feeling fresh, comfortable and at their best," said Mr Bolyn.
"With the launch of this campaign, pharmacies can expect current or potential customers coming into store asking about Optrex ActiMist, how it works and its benefits."
Applied to closed eyes, Optrex ActiMist is a liposomal spray that offers pharmacy staff the opportunity to provide patients with a convenient, easy to use treatment for quick relief. Optrex ActMist is suitable for extended or episode use, for contact lens wearers and for use over makeup (as it won't smudge).
Optometry practices wishing to place orders for Optrex ActiMist product, collateral and/or samples, can call 02 9371 8884 or use the self-service online portal at www.eyelogic.com.au
Product News

Wednesday, 04 February 2015

Konan Medical, a US company specialised in innovative diagnostic and examination devices for the ophthalmic industry, announced that it has released ColorDx Pro, a military-grade, extended color vision diagnostics app for iPad. ColorDx Pro is available from iTunes for an introductory price of AUD899.99.

ColorDx is routinely used at the US Naval Aerospace Medical Institute (NAMI) for qualifying Naval aviators and the FAA has recommended its use for qualifying civil aviation pilots. ColorDx has other test strategies for vocational color vision assessment that are also self-administered and automatically scored.

ColorDx apps test for both genetic (protan/deutan) and acquired (tritan) color vision deficiencies and is used extensively in clinical practices to aid decision making for a variety of neurological and ocular disorders, or substance toxicities that can cause a tritan deficiency.

ColorDx is also available for Android™ tablets, Windows® and Mac® computers as well as online and print. More information and free 30-day trials are available from www.konanmedical.com/colordx .

Ophthalmology and Optometry

Tuesday, 03 February 2015

Researchers in the Cedars-Sinai Board of Governors Regenerative Medicine Institute in US have devised a novel way to generate transplantable corneal stem cells that may eventually benefit patients suffering from life-altering forms of blindness. Scientists used human corneal cells to generate pluripotent stem cells that have a capacity to become virtually any body cell. Then, putting these cells on natural scaffolds, researcher's facilitated differentiation of these stem cells back to corneal cells.

"Our research shows that cells derived from corneal stem cells are attractive candidates for generating corneal cells in the laboratory," said Alexander Ljubimov, PhD, director of the Eye Program at the Board of Governors Regenerative Medicine Institute and principal investigator on this research study.

This research, published in the journal Stem Cells Translational Medicine, marks an important first step toward creating a bank of corneal stem cells that may potentially benefit patients who suffer from many forms of corneal blindness. The group is now working to optimize the process with National Institutes of Health funding.

Corneal deficiencies may have genetic or inflammatory roots or be caused by injuries, like burns to the skin in occupational accidents. They result in damage or death of stem cells that renew the outermost part of the cornea. If left untreated, they often cause compromised vision or blindness. More than 3 million individuals worldwide are affected by corneal blindness.

New Zealand News

Monday, 02 February 2015

The comprehensive CPD education program being offered at ODMA|2015 has been approved by the Accreditation Committee of the New Zealand Optometrists and Dispensing Opticians Board for a total of 4 clinical diagnostic (CD) and 5 general credits.

The conference program will run concurrently with the ODMA|2015 exhibition, delivering a wide ranging program consisting of thirteen sessions in a one-day program taking place on the opening day (Friday July 3, 2015) of the ODMA|2015 exhibition. Early bird prices start from AU$299 for the entire program.

ODMA|2015 – the preeminent industry event for the Australia-Pacific optical community – will run from July 3 – 5, 2015 at the Brisbane Convention & Exhibition Centre, South Bank.

Australian News

Friday, 30 January 2015

The Lions Eye Institute (LEI) in Western Australia is currently working on a large research program to find solutions to prevent children's eye injuries. As part of this research a 12 year audit was conducted of children's eye injuries requiring admission to hospital in Perth, WA. This has led to a proposal for sports eye protection to be accepted for review by Standards Australia in late November last year.

Sports-related eye injuries are common, due to children's close proximity to fast-moving balls, sharp equipment and physical contact with other competitors. It was stated in the LEI study that in Australia eye injuries from sporting activities accounted for 10% of severe eye trauma in children, with permanent visual damage occurring in 27% of these cases.

In the playground and elsewhere, novelty items such as loom bands (rubber bracelets) have caused significant eye damage to children both in Australia and overseas. The availability of hand-held laser 'toys' and their potential to cause retinal damage is also a concern.

Children's developing physical coordination and limited ability to detect risks in their environment increases their risk of eye trauma. While risks should not hinder the provision of engaging and interesting activities in school environments, mild injuries such as eyelid bruising or corneal abrasions do occur. Lasting damage can be caused by more serious high-impact injuries such as blunt trauma or penetrating injuries.
<< Start < Prev 1 2 3 4 5 6

7

8 9 10 Next > End >>


Page 7 of 304