News
Companies
Monday, 18 August 2014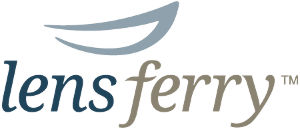 Aiming to provide independent eye care practitioners (ECP) with an easy-to-implement method to more effectively enhance the ECP-wearer relationship, as well as drive contact lens category growth, CooperVision, Inc. unveiled its LensFerry™ service. Now in its U.S. beta release, LensFerry allows wearers to quickly and conveniently order replacement contact lenses from any manufacturer via their mobile device, tablet or computer for fast shipment to their homes. Not only does the prescribing practice receive the sales revenue as if the lenses had been ordered in-office, but it also enhances its relationship with the wearer, since all LensFerry communications are customised with the practice's name and/or logo.
The service, which will be part of WebSystem3's EyeCare Prime suite later this year, includes contact lenses from all manufacturers at ECPs' specified prices. Online ordering and fulfillment is easy for subscribing practices and their wearers:
In conjunction with an in-office visit and the selecting and prescribing of contacts by the ECP, a practice enrolls a wearer in just a few steps and verifies the prescription.
The wearer selects from buying options, using available insurance benefits and qualifying for any applicable manufacturers' rebates.
The contact lenses are shipped directly to the wearer's home or business through LensFerry's partnership with ABB Optical, the leading U.S. contact lens distributor.
The ECP can send the wearer custom-branded email and/or text reorder reminders via LensFerry.
If a wearer is not immediately interested in placing a lens order following an in-office appointment, LensFerry can send ECP-customised follow-up messages to encourage enrollment and online ordering, build wearer loyalty and maintain relationships.
LensFerry was developed with hands-on input from a group of U.S. optometrists representing a range of practice sizes and locations. The service's beta launch period is anticipated to take place over the next 90 days, accounting for testing and final design. LensFerry is then expected to roll out to other U.S. practices, with the potential for select international availability in 2015.
For more information goto: LensFerry.com
Product News

Friday, 15 August 2014

Gucci introduces new sunglasses and optical frames dedicated to the contemporary man, featuring a classic yet modern look. Combining retro style, impeccable workmanship and a modern material, these new frames features refined details, such as functional metal rivets with the hinges. A new minimal metal House Web motif displays an interplay of shiny and matt finishes, and a photo-engraved GG plaque adorns the temple-tips.

Inspired by traditional craftsmanship that has been handed down over the years, these sunglasses and optical frames are distinguished by a skilfully hand-finished treatment, which gives the material a sophisticated look that perfectly blends past and present.

The sunglasses and optical frames are available in bio-based acetate in classic black and Havana colours. Bio-based acetate is an innovative material that features the same comfort and quality as the finest plastics currently employed by the eyewear industry, but derives a large proportion of its components from natural origins. This helps reduce CO2 emissions from the production process of the material, thus supporting Gucci's commitment to environmental issues.

The round-shaped sunglasses come in black bio-based acetate with grey-shaded lenses and in dark Havana bio-based acetate with brown-shaded lenses. The styles are also available in yellow-spotted Havana acetate with dark-brown infrared lenses and in green-spotted Havana acetate with grey infrared lenses, allowing for superior quality of vision. The square-shaped sunglasses and optical frames come in black bio-based acetate, dark Havana bio-based acetate and black/Havana and Havana/crystal acetate. The new Gucci sunglasses and optical frames for men will be available worldwide at Gucci boutiques and select high-end opticians.

Australian News

Thursday, 14 August 2014

As reported last month, Luxottica has lost its contract with the Australian Defence Force (ADF) to provide optical benefits to its members. The contract, which is valued at AUD 33.5 million, is for optical services with the ADF as an exclusive subcontractor to prime contractor Medibank. Medibank Health Solutions (MHS), the medical and allied health provider to ADF personnel, advised Defence that Luxottica breached its contractual obligations by transferring optical claims information overseas for processing.

In order to continue providing optical services to its personnel Defence Health recently appointed new providers. It announced that it has joined forces with Specsavers and VSP Neighbourhood Eyecare to deliver better optical benefits for its members.

VSP Neighbourhood Eyecare is a group of more than 500 independent optometrists and optical dispensers. VSP providers are conveniently located close to where members live or work. Specsavers has more than 280 optical stores around Australia.

International News

Wednesday, 13 August 2014

The World Council of Optometry (WCO) has announced the launch of two new membership categories following their Governing Board meeting in Maputo last month. The two categories are 'Individual' and 'Corporate' membership. WCO has introduced these categories in order to make the organisation accessible to people who want to support their work.

Individual membership will be open to individual optometrists (as defined by WCO), vision scientists, faculty, researchers and eye care industry professionals. The cost of individual membership is US$100 and US$50 if the individual member is from a developing country.

Corporate memberships are open to commercial organisations that are not otherwise eligible for Associate or Affiliate membership and have a recognised and approved business relationship with an Associate, Affiliate or Individual member.

Individual and Corporate members must endorse the WCO concept of optometry and support WCO's vision and mission. The fee for Corporate membership is US$900 per annum.

Susan Cooper, President of The World Council of Optometry said: "We have created these new membership categories in order for us to grow our membership base while recognising and celebrating the support we have from individuals and organisations around the world. You do not have to be an optometrist to be interested in our mission is to promote eye health and vision care as a human right through advocacy, education and policy development. We look forward to welcoming new individuals and organisations to our membership body."

Australian News

Tuesday, 12 August 2014

Save Sight Institute, a research centre of The University of Sydney, is preparing to launch a National Keratoconus Registry to collect high quality data and outcomes from emerging therapies and surgical techniques relating to the management of keratoconus. It is anticipated that the Registry will be expanded internationally.

Led by Save Sight Institute's Clinical Professor Stephanie Watson, in collaboration with the Centre for Eye Research Australia in Melbourne, the project involves the development of a software platform to enable the mass collection of anonymous patient data in real-life clinical settings.

According to Prof Watson "Many therapies, devices and surgical procedures have been developed to treat keratoconus, but few have been evaluated using post-market surveillance, and there is no system in place to collect such data nationally. Keratoconus tends to affect young adults and has a significant public health impact".

The first treatment to be evaluated via the registry is cross-linking, a relatively new approach to halting keratoconus progression. Following evaluation of cross-linking treatment protocols, the registry will obtain long-term data on cross-linking, as well as emerging treatments such as the combination of cross-linking with laser and the use of rings. Once established, the registry will evaluate the clinical and patient-reported outcomes emerging therapies.

Keratoconus reduces vision by altering the biomechanical properties of the cornea. It affects 50-200 people per 100,000 of the general population. Severe visual deterioration affects 20 per cent of Keratoconics and usually occurs in the second and third decades of life due to astigmatism, corneal scarring or both. As it affects young adults, it has a significant public health impact. If vision loss from keratoconus cannot be corrected by spectacles or contact lenses, corneal grafting may be needed, which involves a life-long risk of graft rejection and weakening of the structural integrity of the eye.

The Australian Keratoconus Registry is based on the highly successful Fight Retinal Blindness (FRB) project, led by Professor Mark Gillies also from the Save Sight Institute. The FRB's innovative free software platform—now in its sixth release—has expanded rapidly and collects real-world clinical data on macular degeneration patient outcomes from ophthalmologists throughout Australia, China, Europe and New Zealand.

According to Prof Gillies "There is no other system quite so easy to use. Collecting baseline data on a patient takes just 30 seconds to enter, with follow-up appointments involving just 15 seconds of data-entry."

Through the FRB system, the visual outcomes of 3,500 patients, 4,500 eyes, 65,000 visits and almost 80,000 treatments are currently being tracked in a completely anonymous way. This provides valuable insights regarding different treatment approaches and enables more clinicians to benchmark and continuously improve their own patient outcomes. Added to this, the program has real benefits for people living with macular degeneration. Says Prof Gillies "For patients, the simplified graphical outputs of their treatment journey helps them to understand the consequences of various treatment approaches, and is thought to be improving compliance".

The FRB project is a joint initiative by the Save Sight Institute in Sydney, the Centre for Eye Research Australia in Melbourne and the Lions Eye Institute in Perth.
<< Start < Prev 1 2 3 4 5 6

7

8 9 10 Next > End >>


Page 7 of 291