News
Feature Story
Thursday, 21 May 2015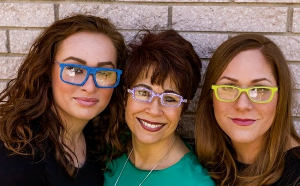 U.S. eyewear start-up company Eye Change has recently introduced a new and unique eyewear system that allows you to invest in just one pair of glasses and have the option of "unlimited" colors, looks and styles. Simply change the 'rims and trims' anytime you want for an entirely new look. An inlaid magnet and tongue and groove system ensures a secure attachment system for both the front piece, aka the 'rim' and the temples, aka the 'trims'. The company's motto is: "Eye Change...to a new frame of mine!"
Eye Change has partnered up with Vision Craft, an Essilor partner lab in the Michigan, US. According to Eye Change's website, their timeline is expected to be like: "Manufacture a minimum of 10 more mainframes to choose from within the next 2 months with the goal being 15-20 different mainframes by summer's end. Surely, with 20 different styles and shapes, there will be a flattering frame for most faces." They also mention "Beginning early in 2016, we will be opening our first Kiosks in some of the higher end Malls for a 'more hands' on experience. This allows you to try on and really experience the many different looks that Eye Change will be offering."
The company is also listed on kickstarter.
Australian News

Wednesday, 20 May 2015

Kate Gifford, the Chair of Optometry Australia (OA), the national professional body for optometrists, expressed her disappointment with the Australian Government's decision to ignore calls to reverse cuts to the optometric Medicare rebate.

"A five per cent cut to Medicare rebates for optometric consultations has been in place since 1 January 2015. Combined with the freeze on Medicare indexation to July 2018, the cut is threatening the sustainability of optometric services, particularly those located in areas of socio-economic disadvantage.

"Despite our ongoing calls for smarter investment in optometry under Medicare, the Budget has failed to provide the necessary relief for optometrists and their most vulnerable patients."

"The recent cuts to optometry under Medicare are impacting thousands of Australians most at disadvantage such as pensioners, health card holders, those on low incomes, children and people living in residential agedcare facilities. We are greatly concerned that the Government's reduced investment in Medicare is deterring many of these patients from seeing an optometrist when they need to.

There was a win for optometrists and patients in rural and remote areas with the Government extending eligibility for the use of telehealth services under Medicare to optometrists, to support the use of video consultations with ophthalmologists.

"We know that people living in regional and rural areas have higher unmet need for eye care than those living in metropolitan regions and so extending telehealth services under Medicare to optometrists is a logical step to support better access and co-ordination of eye care services. Despite this welcome addition under Medicare, the Budget has failed to deliver the necessary significant investment required to ensure optometric care is accessible and sustainable for all Australians into the future.

"When you consider that 80 per cent of all vision impairment is preventable or treatable, we continue to question why the Australian Government has ignored our calls to help us to reduce this damning statistic," Mrs Gifford said.

Optometry Australia has been calling on the Government to reverse the five per cent cut to the optometric rebate, at minimum for socio-disadvantaged Australians. "The Government appears blind to the needs of these Australians. Instead of discouraging, it should be encouraging Australians to see an optometrist regularly in order to help reduce the $1.36 billion that vision loss costs the Australian economy annually," Mrs Gifford said.

Ophthalmology and Optometry

Tuesday, 19 May 2015

University of Toronto scientists and engineers have made a breakthrough in cell transplantation using a gel-like biomaterial that keeps cells alive and helps them integrate better into tissue. In two early lab trials, this has already shown to partially reverse blindness and help the brain recover from stroke.

Led by University of Toronto Professors Molly Shoichet and Derek van der Kooy, together with Professor Cindi Morshead, the team encased stem cells in a "hydrogel" that boosted their healing abilities when transplanted into both the eye and the brain. These findings are part of an ongoing effort to develop new therapies to repair nerve damage caused by a disease or injury.

Conducted through the University of Toronto's Donnelly Centre for Cellular and Biomolecular Research, their research was published in the recent issue of Stem Cell Reports, the official scientific journal of the International Society for Stem Cell Research.

Stem cells hold great therapeutic promise because of their ability to turn into any cell type in the body, including their potential to generate replacement tissues and organs. While scientists are adept at growing stem cells in a lab dish, once these cells are on their own—transplanted into a desired spot in the body—they have trouble thriving. The new environment is complex and poorly understood, and implanted stem cells often die or don't integrate properly into the surrounding tissue.

The researchers also showed that these new cells could help restore function that was lost due to damage or disease. One part of the Stem Cell Reports study involved the team injecting hydrogel-encapsulated photoreceptors, grown from stem cells, into the eyes of blind mice. Photoreceptors are the light sensing cells responsible for vision in the eye. With increased cell survival and integration in the stem cells, they were able to partially restore vision.

"After cell transplantation, our measurements showed that mice with previously no visual function regained approximately 15% of their pupillary response. Their eyes are beginning to detect light and respond appropriately," says Dr. Brian Ballios, an expert in stem cell biology and regenerative medicine for retinal degenerative disease, who led this part of the study.

Companies

Monday, 18 May 2015

Luxottica Group and Prada s.p.a. have announced the renewal of an exclusive license agreement for the design, production and worldwide distribution of prescription frames and sunglasses under the Prada and Miu Miu brands. The 10-year agreement will extend through December 31, 2025.

Adil Khan, Luxottica's CEO of Markets, commented: "We are extremely proud of our collaboration with Prada Group and the beautiful and innovative frames we are creating together. Prada and Miu Miu are truly global and iconic brands and we look forward to continuing our successful partnership in the years ahead".

Patrizio Bertelli, Prada Group's CEO, said: "We are very pleased to announce the renewal of our co-operation with Luxottica which, thanks to its leadership in the international markets, is the ideal partner to boost our brands' identities."

Companies

Friday, 15 May 2015

HOYA Corporation has announced financial results for the fourth quarter and full‐year ended March 31, 2015. During the quarter, revenues increased by 10.6% to 127,440 million yen compared with the same period last year. Pre‐tax profit for the quarter was 25,309 million yen, while profit for this quarter was 18,513 million yen, both of which marked gains of 27.2% and 45.1%, respectively.

In Hoya's Life Care segment, sales significantly increased in the eyeglass lens business through stronger sales in overseas markets and inclusion of Seiko Optical Products, a sales company of SEIKO eye wear, as a consolidated subsidiary. The contact lens retail business posted year‐on‐year sales decline due to the rebound reduction from the last‐minute demand in March the previous year before the consumption tax hike. Most of the businesses, excluding the endoscope business, performed quite well. Together with the weaker yen, the revenue posted an increase year‐on‐year.

"Today we announced a new share repurchase program with a maximum of 10 million shares and ¥45 billion. Our policy to allocate resources in M&A opportunities and to use excess cash to reward shareholders continues," said Hiroshi Suzuki, chief executive officer of HOYA. "Decline in profit for the Life Care segment was mainly due to influence of currency exchange. Sales for eyeglass lens business increased by 20% thanks to healthy growth in Europe and US. I also expect a new intraocular lens product launched this April to become a hit because of its unique and excellent quality."
<< Start < Prev 1 2 3 4 5 6

7

8 9 10 Next > End >>


Page 7 of 312