News
Product News
Wednesday, 18 June 2014
It's no secret that theo adores its hometown of Antwerp in Belgium. It's a lively, creative city where theo feels right at home. Antwerp is also a major world port a fact that took theo as a new source of inspiration for the latest eyewear collection. Royers, Nassau and Siberia are three of the bridges that give access to the harbour not far from the city centre. Bridges which have now been immortalised as eyewear.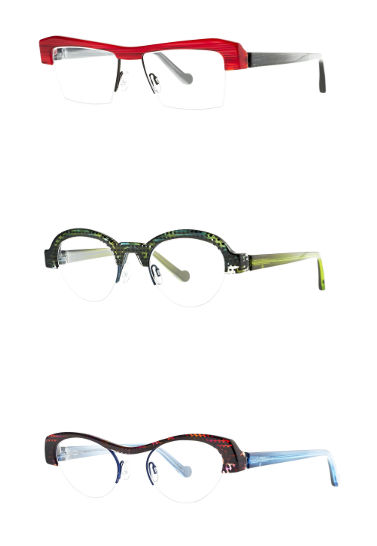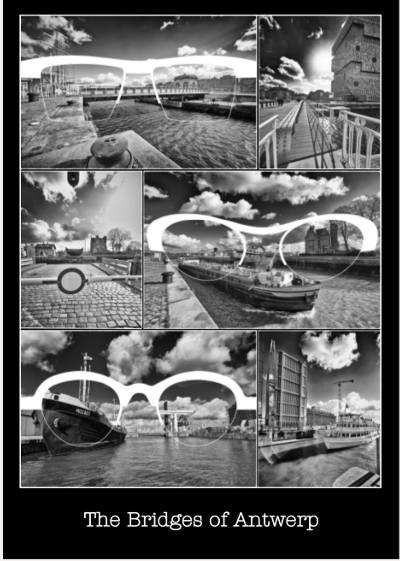 The 'Antwerp Bridges' collection combines acetate, stainless steel and nylor in a unique way. The stainless steel core is enveloped in acetate. The temples stay flexible thanks to the flex-system developed in-house at theo and they flow seamlessly in a single line. Just like a bridge, these glasses look heavy on the top but open and airy on the bottom. Each model is available in 8 – fairly subdued – colours. But they're 100% unmistakable theo thanks to the abundant use of our own acetate plates.
Companies

Tuesday, 17 June 2014

ProDesign International A/S and Architectures SAS (founder of the FACE A FACE and WOOW brands) announced last week the merger of their companies under the banner of the Danish private Equity fund Erhvervsinvest. Architectures' founders, Pascal Jaulent and Nadine Roth, continue as shareholders in the joint company and will still be the driving forces in Architectures.

ProDesign International A/S and Architectures SAS, with respective 95% and 85% sales in export markets, are both showing strong growth. The expected sales of the new group for 2014 should reach about 40 M€.

Dion Eriksen, CEO, ProDesign International commented: "Face à Face is undoubtedly one of the strongest independent designer brands in the world and will together with the product portfolio of ProDesign establish an even stronger position in the market. We look very much forward to benefit by the high experience each company contributes with." M. Pascal Jaulent, President of Architectures declared: "The common design culture and international position of ProDesign and Face à Face is a great opportunity for the development of our brands. This strategic alliance will also reinforce our capacities to adapt to the future challenges of the optical market."

Ophthalmology and Optometry

Monday, 16 June 2014

An ultrathin light detector that can sense wavelengths our eyes can't see has the potential to put heat vision technology into a contact lens, its University of Michigan developers say. Heat or thermal vision, one variety of night vision, illuminates the heat being emitted by animals, humans, cars, electronic devices and more.

The researchers have built the first room-temperature light detector that can sense the full infrared spectrum. Infrared light starts at wavelengths just longer than those of visible red light and stretches to wavelengths up to a millimeter long. Infrared vision is perhaps the best known variety of night vision. It can also help visualize heat leaks in houses, help doctors monitor blood flow, identify chemicals in the environment and allow art historians to see Paul Gauguin's sketches under layers of paint.

Unlike comparable mid- and far-infrared detectors currently on the market, the new detector doesn't need bulky cooling equipment to work. To make the device, the researchers put an insulating barrier layer between two graphene sheets. The bottom layer had a current running through it. When light hit the top layer, it freed electrons, creating "holes" - gaps between electrons that act as positive charges. Then, the electrons used a quantum mechanical trick to slip through the barrier and into the bottom layer of graphene.

The positively charged holes, left behind in the top layer, produced an electric field that affected the flow of electricity through the bottom layer. By measuring the change in current, the team could deduce the brightness of the light hitting the graphene. The new approach allowed the sensitivity of a room-temperature graphene device to compete with that of cooled mid-infrared detectors for the first time. The device is already smaller than a pinky nail and is easily scaled down

According to the researchers: "If we integrate it with a contact lens or other wearable electronics, it expands your vision. It provides you another way of interacting with your environment".

The research has been published in Nature Nanotechnology.

Australian News

Friday, 13 June 2014

The Royal Australian and New Zealand College of Ophthalmologists (RANZCO) with the support of the Urological Society of Australia and New Zealand (USANZ), is urging patients and prescribers to be aware that some medications containing alpha-1 adrenergic receptor antagonists can potentially increase the likelihood of serious complications during cataract, glaucoma or some forms of refractive surgery in susceptible patients.

RANZCO is concerned that the product information for these medicines does not adequately address these potential complications. The most commonly prescribed, tamsulosin (Duodart®, Flomaxtra®), typically used for the treatment of benign prostatic hyperplasia (BPH) in men and kidney stones in men and women, is of particular concern.

This warning has come through local ophthalmologists' experiences, and also from some recent studies. Most members of the American Society of Cataract and Refractive Surgery believe that tamsulosin makes cataract surgery more difficult (95%) and increases the risks of surgery (77%).

Ophthalmologist, Dr Mark Renehan explains his concerns "If you're having this kind of surgery and are already taking, or have taken medication containing a selective alpha-1 adrenergic receptor antagonist such as tamsulosin, the pupil may dilate poorly and the iris (the coloured part of the eye) may become floppy during the procedure. This could lead to damage to the iris increasing the risk of post-operative blurred vision, sensitivity to light and difficulty driving at night."

"Having a floppy iris also significantly increases the risk of damage to the lens capsule, a delicate membrane in the eye the integrity of which is important in the outcome of cataract surgery. If this is damaged there is a high risk of further surgery being required and a poor outcome, potentially even loss of vision." This also applies in different ways to glaucoma and some refractive surgery procedures.

This side effect is referred to as Intraoperative Floppy Iris Syndrome (IFIS) and is best approached by prescribers, patients and the operating ophthalmologist being aware of alpha-1-adrenergic receptor antagonist usage in the patient. This is important as permanent structural changes to the iris have been observed in patients who have taken treatment for even a short time, and also in patients years after ceasing medication.

Other related medications available in Australia and/or New Zealand with the potential to cause IFIS include alfuzosin (Xatral®), terazosin (Hytrin®) and doxazosin (Carduran®) also used to treat BPH; prazosin (MiniPress®) and labetolol (Presolol®, Trandate®) used to treat hypertension; and risperidone (Risperdal®), ropinirole (Repreve®), and mianserin (Tolvon®, Lumin®) used for treatment of some psychiatric conditions. There are accounts of a herbal preparation called saw palmetto having similar effects.

USANZ supports RANZCO in calling for more prominent warnings in the product information from drug companies manufacturing alpha-1-receptor antagonists about the increased risk of IFIS in patients taking their products. Prescribers of these medications should be aware of this complication and warn their patients to inform their ophthalmologist about their usage if contemplating cataract or other eye surgery. In some selected cases where patients are about to have at risk surgery, the commencement of these medications may be delayed in consultation with an ophthalmologist. Any patient requiring such surgery should have a history of alpha-1-receptor antagonist usage elucidated to attempt to mitigate the risk of IFIS.

Alpha-1 adrenergic receptor antagonists are effective in the treatment of a variety of conditions. While it is not something patients and prescribers may think of at this time, the key is for all parties to be aware of the potential for these drugs to cause IFIS before starting on the medication.

Companies

Thursday, 12 June 2014

To celebrate 2014 as a great year of sport in Brazil, Gucci introduces a new collection of unisex sunglasses characterized by bold colors and an urban attitude. This unique sporty model has an easy-to-wear square-shaped silhouette and a vibrant color palette, making it distinctive, fresh and modern. The matt black frame is brightened by colorful flashing mirrored lenses inspired by the hues of the Brazilian flag: a model with a lens in a mirrored combination of green/gold/green, recalling both the tones of the flag and the iconic Gucci web stripe, as well as models with mirrored blue and mirrored gold lenses.

The frame is enhanced with rubber tips at the ends of the temples, allowing for a comfortable fit. The Gucci logo is featured on the lenses and on the temples, while the web stripe and the Diamante pattern on the insides of the temples are iconic details underlining the distinctive DNA of these frames.

Gucci is distributed by Safilo.
<< Start < Prev 1 2 3 4 5 6

7

8 9 10 Next > End >>


Page 7 of 286