News
International News
Monday, 09 December 2013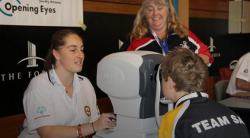 The Special Olympics 2013 Asia Pacific Games, held from November 30th to December 7th 2013, has brought together 32 nations from across the Asia Pacific region. Over 2,500 athletes and carers, 6,000 officials and supporters from overseas and interstate and 200,000 spectators converged on the Newcastle-Hunter region for the duration of the Games. Over 4000 local volunteers were recruited to make the Special Olympics 2013 Asia Pacific Games possible.
A key initiative that has been conducted during the Special Olympics 2013 Asia Pacific Games is the Healthy Athlete Program. Athletes partaked in the program across the duration of the Games. People with intellectual disabilities are at a greater risk of developing certain health problems, such as obesity, diabetes and heart conditions, than the general population. The Healthy Athlete Program actively encourages better healthcare and lifestyle choices for Special Olympics athletes. The program has seen volunteer health professionals administer free health screenings and services at major competitions. These services were offered across a variety of health disciplines, including podiatry, optometry, audiology and dentistry.
One of these conducted services, called The Opening Eyes program, is a vision and eye health screening initiative in partnership with the Lions Clubs International Foundation. With the help of volunteer eye care professionals, Opening Eyes provided Special Olympic athletes with prescription eyewear, sunglasses and sports goggles.
Australian News

Friday, 06 December 2013

The book entitled "The Naked Eye - How the revolution of laser eye surgery has unshackled the human eye" by Dr Michael Lawless and Dr Gerard Sutton has been launched. It explains the pros and cons of laser eye surgery in language that everyone can understand.

Dr Michael Lawless and Dr Gerard Sutton are two of the most experienced laser eye surgeons in Australia, recognised by their peers around the world as experts in the field of laser eye surgery. Frequently asked to share their expertise which they do with us in this must-read book, The Naked Eye delivers all the information that anyone requires prior to considering laser eye surgery.

All proceeds from the sale of this very informative read go to The RANZCO Eye Foundation. For more information goto: www.thenakedeye.net.au

Australian News

Thursday, 05 December 2013

Guy Sands, from Concord, didn't have the slightest idea how people with vision impairment learn to read braille until his local men's shed, Harry's Shed, also known as the City of Canada Bay Men's Shed Inc was approached by Vision Australia to make some braille blocks. Four weeks later 58 boards were delivered to Vision Australia's Sydney head office in Enfield.

As part of the process of teaching braille, Vision Australia provides clients with a braille block. This small timber device has six holes into which six short pieces of timber dowel can be inserted and removed to create the 64 unique combinations required for grade one braille. The lacquered boards were made with rosewood bases and pine dowels. Each board enabled each letter of the alphabet to be represented by a different combination of raised and lowered dowels. It was a team effort at the Shed. Stephen Liddicoat did the band-sawing, Guy machine-sanded the bases and Norm Shopland and Harold Pedley, did the fiddly bits. Bob Arrow and Norm Tate helped out where needed.

Ophthalmology and Optometry

Wednesday, 04 December 2013

Researchers in the Cedars-Sinai Regenerative Medicine Institute, U.S., have designed and tested a novel, minute-long procedure to prepare human amniotic membrane for use as a scaffold for specialized stem cells that may be used to treat some corneal diseases. This membrane serves as a foundation that supports the growth of stem cells in order to graft them onto the cornea.

This new method, explained in a paper published last month in the journal PLOS ONE, may accelerate research and clinical applications for stem cell corneal transplantation.

Corneal blindness affects more than 8 million people worldwide. Among other causes, corneal blindness can be the outcome of corneal stem cell deficiency, a disease usually resulting from genetic defects or injury to the eye — such as burns, infection or chronic inflammation — that can lead to vision loss. A feasible treatment to rectify vision loss for such patients is corneal stem cell transplantation, either as a biopsy from another eye or by transplanting cultured stem cells, although this promising approach is not yet fully standardized.

An approved biological foundation for cultured stem cells is the human amniotic membrane, a thin but sturdy film that separates the fetus from the placenta. For the best growth of stem cells, amniotic cells need to be removed by chemical agents. The existing methods for removing these cells from this membrane are not standardized, leave behind amniotic cells and may cause unwanted loss of some of the membrane components.

The amniotic cell removal method created at Cedars-Sinai takes less than one minute and ensures virtually complete amniotic cell removal and preservation of amniotic membrane components, and also supports the overall growth of various stem and tissue cells.

Australian News

Tuesday, 03 December 2013

The Fred Hollows Foundation has signed up to a 10 year partnership with the International Diabetes Federation to tackle a challenging complication of the disease that can lead to blindness. The partnership was announced last week at the prestigious Baker IDI Institute just days before the start of the World Congress on Diabetes in Melbourne.

The new alliance will embed eye care as part of general health care for people living with diabetes and work towards new global guidelines on treatment. The partnership will also collaborate on rolling out diabetes programs in a range of developing countries that are expected to include mass screenings. It will invest in low cost treatment services to address diabetic retinopathy, and contribute towards building a skilled workforce to provide good quality care in all aspects of screening, treatment and management of the condition.
<< Start < Prev 1 2 3 4 5 6

7

8 9 10 Next > End >>


Page 7 of 273