News
Ophthalmology and Optometry
Thursday, 23 July 2015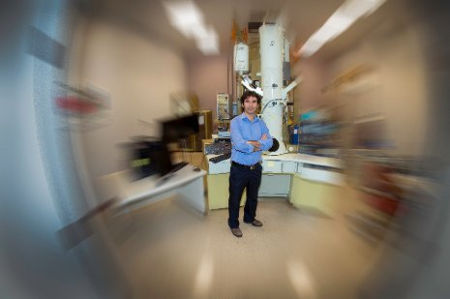 Researchers at Michigan Technological University have found a way to possibly solve one of the biggest optical challenges, getting light waves to pass through the lens without getting consumed. The journal Physical Review Letters published their study this July, a continuation of work done by Durdu Güney, a professor of electrical and computer engineering at Michigan Tech.
Metamaterials are often based on natural materials but can be altered to have completely different optical properties. Metamaterials go beyond the limits of natural materials such as glass, plastic, metal or wood. To do that, the bases used for making a metamaterial—like the thin silver films Güney's group uses—are tweaked at the subwavelength scale so that light waves interact with the material in new ways. While no one has created a perfect lens yet, the metal base Güney tests would look more like a traditional glass lens; light would pass through instead of reflecting off the metal.
"Aluminum and silver are the best choices so far in the visible light spectrum, not just for a perfect lens but all metamaterials," Güney says, explaining that metamaterials have been successfully created with these metals, although they still tend to absorb light waves. "Loss—or the undesired absorption of light—is good in solar cells, but bad in a lens because it deteriorates the waves," he explains.
The solution to absorption is all in the light waves themselves, which behave strangely in metamaterials. To create their sci-fi light-bending properties, a perfect lens relies on negative index metamaterials. Positive and negative refer to how a material responds to propagating and decaying light waves, which are like the yin and yang of optics. Most materials—positive index materials—allow only propagating light waves to pass through. Negative index metamaterials, on the other hand, don't just pass through propagating light waves but also amplify the decaying light waves.
"In order for the perfect lens to work, you have to satisfy a lot of electromagnetic constraints," Güney explains. "We don't know how exactly the required optical modes [light waves in the material] need to be excited and protected in the lens for the perfect construction of an image."
This difficulty has led researchers to try numerous modifications of the metamaterial make-up, adding bulk, mode-by-mode nit-picking and increasingly complex models. But Güney and his team propose moving away from the complications and going back to the light itself. In their plasmon-injection scheme (shorted to pi-scheme or π-scheme), the researchers take advantage of knowing which light wave crumbles as it passes through the negative index lens. They use this wave—destined to fail in the lens—to shield the desired light wave, allowing it to pass through unscathed.
"With this approach, you can engineer this sacrificial wave," Güney says. "It is difficult to construct this wave in other approaches."
Moving the technology forward could mean more accessible medical technology and lightweight field equipment, just for starters.
"Imaging is one of the key technologies for this work," Güney says, adding that a perfect lens could make science and medicine real for people. "It will make life easier to understand because people will be able to see it with their own eyes."
Australian News

Wednesday, 22 July 2015

General Optical and Marchon Australia will become wholly owned subsidiaries of Marchon Inc., with ultimate holding company VSP Inc. GenOp/Marchon will be led by Brad Saffin, newly appointed Country Manager and Jonathon Lewis, Managing Director.

Peter Lewis, current CEO and founder of General Optical/Marchon Australia, has announced his retirement. Peter Lewis who has served for 28 years as CEO is to retire on the 31st of October 2015.

Peter said: "I have experienced the Optical industry's complete metamorphosis over the years, with the evolution and the globalisation of the industry. I feel proud and privileged to have been able to rise to the challenges of the changing market and build an Integrated Business Solution, which has as its primary goal, to support Independent Optometry, and enable them to compete successfully into the future. We have continued to invest in our business model, by integrating all VSP lines of business, which offers a powerful business solution, including innovative products and global brands, state of the art software and a growing referral Private Health Fund Network. I have made some truly great friends in this amazing industry and feel proud and very confident that the 'Young Guns' taking over, have the experience, knowhow and backing to take GenOp / Marchon to new heights and continue to deliver support to Independent Optometry. While I have many passions and Interests to pursue, I will be keeping a close interest in our company's development and focused mission."

Australian News

Tuesday, 21 July 2015

Despite the weak economy, The Brisbane Convention and Exhibition Centre came to life with an absolute buzz as the optical industry flocked to the biennial ODMA trade fair. Running for the second time in Brisbane, the ODMA Fair cemented its place as Australasia's number one gathering of optical and eyewear suppliers and buyers, and remains the industry's must-attend event.

Boasting 103 of the industry's leading suppliers, as well as a smorgasbord of new brands and releases, plus a broad collection of niche products and services, practitioners were absolutely spoilt for choice. Compared to the previous edition in 2013 when there were 119 exhibitors the result is very pleasing.

ODMA 2015 attracted 4909 visits from 2949 unique visitors over the three-day event. In 2013 ODMA had 4934 visits from 3024 unique visitors. This year there was an increase in visitation from retailers travelling to the fair from NSW and Victoria.

It is expected that the next edition in 2017 will be held again in Sydney when the new exhibition halls are finished.

Australian News

Monday, 20 July 2015

For the first time exhibiting at ODMA in Brisbane newly established company Black Lilly Imports has already received its first award from the show. Black Lilly Imports won the price for best modular stand at ODMA 2015.

Black Lilly Imports owner Martin Kocbek explained to eyesmart.com.au that the name of his company is derived from his wife's surname. His wife, Dianne Black, is director of the company. Martin is also the current president of the ADOA, the Australian Dispensing Opticians Association.

Black Lilly Imports is wholesale supplier of quality Italian hand crafted eyewear to the local Australian market. Their current brand portfolio consists of: Lastes, DADA-E, Finissimo, and Giuliano Fujiwara.

Australian News

Monday, 20 July 2015

With a combined trading history of over 45 years, the merger of Aviva Optical with Mann Optics creates, according to the companies, a new benchmark in the optical sector—the supply of the latest in optical products and accessories at an unsurpassable level of service.

Aviva & Mann Optical Group provides an enviable product and brand portfolio including exclusive brands such as Centrostyle, Cocoons, Nano Vista, Slastik and Progear Eyeguard. The merged group will continue to operate offices in both Brisbane and Perth and be available to service your needs for extended trading hours each business day.

The company's clients will now be able to speak with members of our customer service team from 8.30am EST (6.30am WST)—6.30pm EST (4.30pm WST) each day. Warehousing and distribution operations will be based in Perth in our specialised distribution centre/warehouse that provides a 24 hour turn-around and delivery service for all metropolitan clients.
<< Start < Prev 1 2 3 4 5 6

7

8 9 10 Next > End >>


Page 7 of 317