News
Product News
Wednesday, 25 September 2013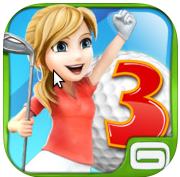 Essilor, in partnership with an App development company, has just launched an IOS App version of Let's Golf! 3 game. The game aims at raising players awareness on the importance of good vision and on the need to check, correct and protect their eyes. Let's Golf 3 - Essilor Cup unlocks the most difficult golf course of the game, "Tuscany", which has been renamed Essilor Cup. Players simply need to answer a fun quiz about vision and the means to preserve it. Two mini-games are also available, for a limited time, where the players have to choose the right glasses depending on lighty conditions to optimize performance on the course. It's a way to educate players about the importance of good vision and how adapted glasses can provide correction, eye protection and visual comfort.
"This partnership on a game that brings together millions of players allows us to raise the awareness of the target audience, notably players of mobile games who make additional demands on their vision, on the importance of correcting and protecting their eyesight," says Eric Thoreux, Director of Strategic Marketing at Essilor. "We consider it our responsibility to inform the largest amount of players on matters regarding healthy vision."
The game can be downloaded from the Apple Store.
Australian News

Tuesday, 24 September 2013

Vision Eye Institute reports that its operating revenues were $107.1 million, a 3.7% decrease on prior year. The reduction in revenue was due to the impact of the change in banding level upon which health fund fees are paid for intravitreal injections (IVI) from 13 September 2012; the continued decline in discretionary refractive revenue; and the planned exit from the Mackay day surgery business in January 2012.

Gross profit was $42.2 million (FY12:$44.6 million), with the impact of the lower health fund fee on IVI and reduction in refractive revenue, partially offset by a reduction in direct costs.

Vision Eye Institute forecasts for 2014 that it will pursue suitable growth opportunities, re-contract doctors and continue to reduce debt. Recruitment of new doctors remains a key focus for the company.

Ophthalmology and Optometry

Monday, 23 September 2013

An international team of researchers, led by scientists at the Genome Institute and the University of Michigan School of Public Health and with members of CERA (Centre for Eye Research Australia), has identified a gene mutation linked to age-related macular degeneration (AMD), the leading cause of blindness in the developed world.

It's not the first gene variation linked to AMD, but it is the first to suggest a mechanism where the variant may contribute to the disease. The researchers report that a change in the C3 gene, which plays a role in inflammation and in the body's immune response, also contributes to macular degeneration.

"In past studies of AMD, there is a clear relationship between the complement pathway and the onset of this disease," said co-senior investigator Elaine R. Mardis, PhD. "The complement system is part of the immune system that helps amplify or 'complement' the efforts of immune cells to fight infections. So the idea is that the gene variant interferes with the complement pathway's normal function throughout life, and that can damage the retina over time, which ultimately leads to AMD's emergence."

The researchers sequenced DNA from 10 regions of the genome that had been linked to AMD in previous genetic studies. They analyzed a total of 57 genes in 2,335 patients with macular degeneration. Then the researchers sequenced the same genes in 789 people of the same age who did not have AMD.

The search turned up two gene variants: one in the C3 complement gene, and an alteration that had been identified in previous studies of macular degeneration.

"Finding the variant that had been identified previously helped confirm that we were on the right track," explained Mardis, a professor of genetics and co-director of the Genome Institute. "And it's likely this new variant was discovered because of the very large number of patients whose DNA we sequenced. By analyzing so many AMD patients, it was possible to find variants that may not have been identified in a smaller patient sample and to establish that this C3 gene variant is unique to people with AMD."

The two gene variants together contribute to a three-fold increased risk for macular degeneration. Mardis and her co-investigators hypothesize that the mutations work in tandem to increase AMD risk by interfering with the inactivation of complement in the retina.

"When you have these mutations, interactions between the proteins that cascade in the complement pathway are altered," Mardis said. "And when they're altered, the secondary response to infection, which involves complement, also is altered. So our hypothesis is that over time, because of the role of the complement pathway in the retina, damage begins to accrue, and eventually that leads to vision loss." The next step, according to Mardis, is to look at additional DNA regions in the more than 2,000 patients and controls who were involved in this study. The researchers will broaden their look across the genome and go beyond the 10 regions of DNA that were analyzed in this study.

"We hope to identify new genes — perhaps more genes in the complement pathway, perhaps genes in other inflammatory response pathways, or in areas we wouldn't have anticipated finding any genes related to AMD," she said. "We're taking a wide look at the genome to see what turns up."

The study was published online Sept. 15 in the journal Nature Genetics.

Ophthalmology and Optometry

Friday, 20 September 2013

A lens invented at The Ohio State University in U.S. combines the focusing ability of a human eye with the wide-angle view of an insect eye to capture images with depth. The results could be smartphones that rival the photo quality of digital cameras, and surgical imaging that enables doctors to see inside the human body like never before.

"Our eye can change focus. An insect eye is made of many small optical components that can't change focus but give a wide view. We can combine the two," explained Yi Zhao, associate professor of biomedical engineering and ophthalmology at Ohio State. "What we get is a wide-angle lens with depth of field."

That is to say, the lens shows a wide view, but still offers a sense of human-like depth perception: as close objects come into focus, far away objects look blurry. Zhao's prototype lens is made of a flexible transparent polymer filled with a gelatinous fluid similar to fluid inside the human eye. It's actually a composite of several separate dome-shaped fluid pockets, with small domes sitting atop one larger dome. Each dome is adjustable, so that as fluid is pumped into and out of the lens, different parts of it expand and contract to change the overall shape—and thus, the direction and focus—of the lens.

This shape-changing strategy is somewhat similar to the way muscles in the human eye change the shape of the lens tissue in order to focus. It differs dramatically from the way typical cameras and microscopes focus, which involves moving separate glass lenses back and forth along the line of sight. The shape-changing lens could potentially offer the same focusing capability as multiple moving lenses in a single stationary lens, which would make for smaller and lighter cameras and microscopes.

The researchers have described the patent-pending lens in the Technical Digest of the 25th IEEE International Conference on Micro Electro Mechanical Systems.

Ophthalmology and Optometry

Thursday, 19 September 2013

By borrowing a tool from bacteria that infect plants, scientists have developed a new approach to eliminate mutated DNA inside mitochondria—the energy factories within cells. Doctors might someday use the approach to treat a variety of mitochondrial diseases, including the degenerative eye disease Leber hereditary optic neuropathy (LHON). The research has been published in Nature Medicine.

Mitochondria convert fuel from food into a form of energy that cells can use. They also make enzymes for a variety of cell functions, and in humans they are the only cell component other than the nucleus that houses genes. Mitochondrial gene mutations can lead to a variety of health problems including muscle weakness, heart disease, and blindness in the case of LHON. Most cells contain thousands of mitochondrial DNA (mtDNA) copies. People with mitochondrial disease often have both mutant and normal mtDNA within their cells. No cures exist for mitochondrial diseases and few effective treatments are available.

Searching for strategies to repair mitochondrial gene defects, a group of investigators at the University of Miami Miller School of Medicine explored proteins called transcription activator-like (TAL) effectors. In nature, TAL effectors are found only in certain types of plant-infecting bacteria. They enable the bacteria to use plant DNA to multiply and spread infection.

Scientists recently began using TAL effectors to modify DNA in a variety of organisms. In the lab, TAL effectors can be fused with DNA-breaking proteins called nucleases. These TAL effector nucleases (TALENs) can be used to add or remove specific genes or correct gene mutations—techniques that fall under the broad category of genome editing. During the past few years, scientists have begun adapting TALENs and other genome-editing tools for gene therapy. Until now, scientists had only used TALENs to edit genes in the cell nucleus. This report marks the first time TALENs have been used to edit mitochondrial genes.

Using cells in the lab, the investigators designed mitoTALENs to bind and cut mitochondrial DNA that had a specific mutation in the gene Complex I, which causes LHON. The scientists then tested whether the mitoTALENs eliminated the mutant mtDNA. Analysis revealed a temporary drop in cells' total mtDNA, which was due to a reduction in mutant mtDNA.

Symptoms of LHON include an abrupt loss of central vision at about age 20 in one eye followed shortly thereafter by the other eye. Although a variety of gene mutations are linked to the disease, most cases involve Complex I mutations, which cause degeneration of the nerves in the back of the eye that transmit visual information to the brain. Neurological problems such as tremors may also occur.
<< Start < Prev 1 2 3 4 5 6

7

8 9 10 Next > End >>


Page 7 of 267