News
Australian News
Friday, 24 March 2017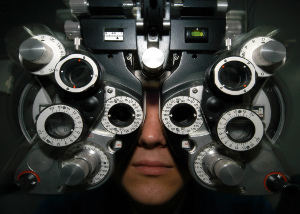 A new Memorandum of Understanding (MOU) between Vision Australia and Orthoptics Australia aims to improve the early detection and treatment of eye conditions through a range of education and collaborative research initiatives.
Under the agreement, Vision Australia will provide an education program to Orthoptics Australia's members about the strategies and services that are available to support people who are blind or have low vision, to live the life they choose.
Members will then be encouraged to discuss Vision Australia's services and provide their resource materials to eye health professionals and their patients, to ensure people who are experiencing vision loss are well supported.
Another key focus of the initiative involves educating people with hereditary eye conditions such as glaucoma and macular degeneration to advise their family members to have a check-up.
"Orthoptics Australia is the first organisation I have signed an MOU with and certainly the first peak body that is enthusiastic about working together to progress change that is beneficial to everyone.
"The MOU has some really good elements. There is a particularly strong desire to work together and a common enthusiasm to explore extensions to Vision Australia's scope of practice for orthoptists, further enhancing the value of the profession," Vision Australia, Chief Executive Officer, Ron Hooton said.
Other long-term benefits of the MOU include the opportunity for collaborative research projects between the two organisations and the placement of orthoptic students within Vision Australia.
"Being able to work with a leading blindness and low vision organisation on research projects will enhance the results of our member's work and deliver better outcomes to people living with blindness and low vision," Orthoptics Australia, President, Julie Hall said.
"It's essential that future generations of orthoptists get quality hands-on placements where they can work with the people they will support throughout their careers. Being able to get this experience early on in their education will enable them to build the skills and understanding to best support people who are blind or have low vision."
Companies

Thursday, 23 March 2017

Kering Eyewear and the Maison Cartier, owned by Compagnie Financière Richemont, plan to enter into a strategic partnership bringing their operations together to create a stronger platform for the development, manufacturing and worldwide distribution of the Cartier eyewear collection. This project is subject to clearance by antitrust authorities.

Under the terms of the agreement, Richemont will acquire a minority stake in Kering Eyewear, a specialised company fully dedicated to the eyewear activity of twelve brands of the Kering Group (Gucci, Bottega Veneta, Saint Laurent, Alexander McQueen, Brioni, Christopher Kane, McQ, Stella McCartney, Tomas Maier, Boucheron, Pomellato and Puma). Kering Eyewear will notably integrate the Manufacture Cartier Lunettes entity in Sucy-en-Brie, France.

Subject to closing, the Cartier 2018 Spring Summer collection, which will be presented during the forthcoming Silmo in Paris (October 6-9, 2017), will mark the official beginning of the partnership.

Companies

Wednesday, 22 March 2017

Launched at MIDO 2017, www.GalleriaSafilo.com is the newest digital museum entirely dedicated to eyewear, its history and technology, and its everlasting charm. According to the company, it is a project that highlights the role of Safilo Group as the historical leader and founder of the Italian Eyewear manufacturing tradition, the forerunner of the industry, as well as the company that owns one of the most important private collections dedicated to Eyewear in the world, collected over many years in the memory of its historical owner Guglielmo Tabacchi.

Designed for global smart-visitors, as well as for scholars, researchers and for those who are curious about the history of costume and the eyewear industry, GalleriaSafilo.com is a Cloud-based digital project that allows visitors to discover, experience and share the wonder of a museum visit from the preferred device, making the most of social networks with intuitive features and language.

Every guest visiting the GalleriaSafilo.com will have the opportunity to register and create a personal gallery, selecting and downloading the favorite pieces from the 300 unique pieces of Safilo's permanent collection on display. This includes glasses that belonged to Elvis Presley, Madonna and Elton John, ancient and contemporary artworks – all classified by genre (ancient, modern, active, celebrities, lifestyle, art, science), historical period (from the seventeenth to the twenty-first century), brand (Safilo, Polaroid, Carrera, Smith) – that can be shared in social networks, tagging friends and involving them in the discovery.

In addition to the permanent collection – which will be progressively enriched by showcasing additional items from the collection of 3000 pieces – GalleriaSafilo.com will propose a calendar of events and temporary exhibitions, dedicated to locations, personalities, new or unseen objects particularly significant for the eyewear world. This is an opportunity that Safilo offers also to its customers, collectors, and fashion brands who wish to collaborate and make use of this unique exhibition space, which can be consulted worldwide.

Australian News

Tuesday, 21 March 2017

Ocular discomfort has primarily been attributed to contact lens wear, refractive surgery, meibomian gland dysfunction and aging. It is something that we all experience from time to time; however, it could be an early symptom of more serious ocular diseases, such as keratoconus, shingles or herpes.

Efforts to diagnose, treat and understand the underlying causes have been hindered by a lack of suitable methods to quantify ocular sensitivity. Traditional instruments are either inaccurate, difficult to use or not generally available.

Dr Klaus Ehrmann, Director of Technology, Brien Holden Vision Institute (BHVI), and associates have developed a new instrument, based on the liquid jet concept, to measure ocular sensitivity, which can potentially enable practitioners to quickly measure discomfort and inform their diagnosis and treatment recommendations.

The instrument does this by propelling small droplets of sterile liquid through a micro-valve onto the surface of the eye. The sensitivity threshold is established by increasing the intensity of the stimulus until the patient reports a positive response. Mechanical, chemical and thermal stimulation is achieved by adjusting the properties of the liquid. The dedicated hardware and custom written software control all the operating parameters, including ejection pressure, precise position targeting, temperature and droplet size.

The instrument conveniently attaches to any slit lamp and is easy to use by unskilled operators. A complete measurement takes 2-3 minutes. With both the patient and the operator being masked to the applied stimuli, more reliable results can be achieved. This new method of corneal stimulation opens a wide range of new applications, ranging from detecting abnormalities in corneal sensation to diagnosing corneal diseases and monitoring the effectiveness of treatment options.

Companies

Monday, 20 March 2017

IBM Watson Health and IDx, LLC recently announced a five-year strategic alliance to advance eye health through cognitive computing applications. The alliance aims to help primary care providers, hospitals, health systems, and integrated delivery networks deliver value-based care to patients with diabetic retinopathy and other serious eye conditions such as glaucoma and age-related macular degeneration. The alliance expands IBM Watson Health's focus on eye health.

The alliance leverages more than a decade of IDx's ophthalmic image analysis work and IBM's cognitive healthcare offerings and global reach. As part of the alliance, IBM Watson Health has the option to distribute IDx offerings. Initially, IBM Watson Health intends to distribute IDx-DR -- an automated solution for diabetic retinopathy screening currently available in the 31 countries that comprise the European Economic Area. IBM Watson Health may expand its distribution of IDx-DR to Australia, Canada, and the United States upon regulatory approvals of the product.

There are 415 million adults with diabetes across the world today, with the number expected to grow by 50% to over 600 million by 2040. Each of these individuals is at high risk of developing diabetic retinopathy, which is one of the leading causes of preventable blindness in working age adults. Most people that develop diabetic retinopathy have no symptoms until irreversible vision loss had occurred, making early disease detection critical to prevent blindness.

"Over the past decades, productivity in healthcare has not kept pace with other sectors. Patients and providers worldwide are paying the price. Our mission at IDx has always been to transform the quality, accessibility, and affordability of global healthcare through the automation of medical screening to support physicians' diagnoses. We are incredibly pleased to partner with IBM Watson Health, which shares this vision, and believe they will help us scale the IDx mission to its fullest potential," said Dr. Michael Abramoff, Founder and President of IDx.

"IDx-DR complements Watson's existing focus in eye health and brings to Watson a novel, secure server-based screening technology that prioritizes patient safety -- pairing expert clinician knowledge with transparent, human brain-inspired algorithms," said Anne Le Grand, vice president of Imaging for Watson Health.

It is further the intent of IBM and IDx to work together to jointly develop and deploy new eye-related offerings leveraging each company's expertise and assets.

This announcement comes shortly after IBM announced that IDx joined the global IBM Watson medical imaging collaborative, which includes 24 members worldwide. The collaborative has a working group on eye health which aims to accelerate Watson's understanding of a range of high-impact diseases -- such as glaucoma, age-related macular degeneration, and cardiovascular disease -- using various imaging modalities including fundus and optical coherence tomography (OCT).

IDx-DR version 2.0 has CE marking as a Class IIa Medical Device for sale in the European Union. IDx products have not yet been cleared by the FDA and are not currently for sale in the United States. IDx is currently conducting a U.S.-based clinical trial of IDx-DR scheduled for completion this summer.
<<

Start

<

Prev

1

2 3 4 5 6 7 8 9 10 Next > End >>


Page 1 of 356