19 Mar 2018
The Fred Hollows Foundation Partners with Cambodian Ministry of Health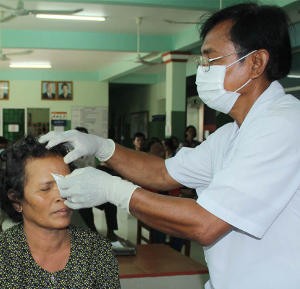 The Fred Hollows Foundation has partnered with the Cambodian Ministry of Health. On 5-7 March 2018, The Foundation offered around 500 free eye treatments through its partner eye units in Phnom Penh and seven other provinces. This included up to 300 cataract surgeries.
Cataract operations are relatively quick and inexpensive, yet cataract remains the leading cause of avoidable blindness worldwide. Women are 1.3 times more likely to be blind than men. Around 20 million women are blind and a further 120 million are vision impaired.
In developing countries like Cambodia, blindness is both a cause and effect of poverty. 90% of blindness is avoidable in Cambodia, mostly due to cataract. However, many people either cannot afford the operation or do not know it is available to them. Tens of thousands of Cambodians are unable to work to support themselves and their families because they are blind.