07 Mar 2019
Eye-DNA Releases New Smaller Interactive 3DNA Retail Display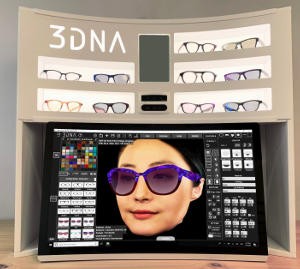 Eye-DNA, an optical solutions company based in Hong Kong, has launched its latest interactive virtual kiosk which is a compact version of its 3DNA Eyewear system that integrates 3D scanning and design to provide user designed and precisely fit eyewear.
"3DNA turns buying eyewear into a new, collaborative experience," said Dennis G. Zelazowski, Founder of Eye-DNA. "Instead of trying on myriad physical frames, consumers start with a 3D face scan and collaborate with the optician to customize their glasses for optimal style and fit."
The smaller version of the interactive kiosk holds 10 frames, and a touchscreen computer running the company's design app. The latest version of the software includes new features such as personal engraving, cloud integration, and ability for opticians to create and share their own collections. Furtermore, two new frame collections join the existing four in the shape library:
Thin Metals: sleek minimal shapes made from titanium
Combination: frames comprised of metal temples and bridges, with frame fronts made from acetate, horn and carbon fiber.
The 3DNA system aims to make opticianry more fun and creative by empowering personalized experiences and emotionally connected products. With an easy to use frame design app, ECPs provide user-designed and precisely-fit premium eyewear. 3DNA makes buying eyewear a personal experience, by placing the patient at the beginning of the frame design process, instead of the end. "Try-on, take-off, repeat" is replaced with a collaborative session with opticians whereby the eyewear are rapidly designed and customized. ECPs interested in differentiating their customer journey or reducing the inventory overhead of
mass-produced eyewear, can easily design and order frames on a per-patient basis.