23 Jul 2020
Topcon Acquires Henson Perimeter Business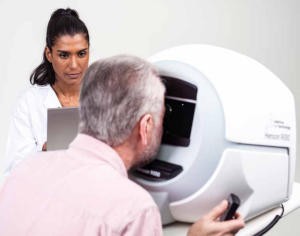 Topcon Healthcare, a leading provider of medical devices and software solutions for the global eye care community, recently announced that it has acquired the Henson line of perimetry products, including the Henson 9000 and 7000, from Elektron Eye Technology (EET) of Cambridge, UK.
The acquisitions include the transfer of a number of EET staff to Topcon's team. Manufacturing will continue in the UK as it has throughout the years past.
The Henson line of perimetry products are well regarded in the eye care industry for their accuracy, speed and ease of use. The Henson 9000 is the ideal perimeter for the early detection of glaucoma and the ongoing monitoring of established loss, while the Henson 7000 is an affordable, lightweight, mobile perimeter designed to perform suprathreshold glaucoma screening in the central field.
Mr. John Trefethen, Global VP of Marketing & Product Design for Topcon Healthcare commented, "The acquisition of the Henson range of products will provide us with the opportunity to strategically develop this area of the company's product portfolio. With Topcon's growing emphasis on screening and early disease detection, the Henson product range perfectly complements our global strategy. I welcome the EET team members to the Topcon Healthcare Family."
Elektron Eye Technology (Cambridge, UK) is a subsidiary of Elektron Technology and home to spectrum of world-class fast-moving engineered product (FMEP) brands, including the Henson Perimeters and the Macular Pigment Screener (MPS II). They are the ophthalmic instruments of choice for eye care professionals involved in the screening and monitoring of glaucoma and age-related macular degeneration (AMD). Designed in partnership with respected eye care professionals, their accuracy, efficiency and ease of use ensures that they meet the needs of optometrists and ophthalmologists, as well as the patients they work with every day.