03 Sep 2021
ANDY WOLF Uses Acetate Renew For Its Sustainable Eyewear Collection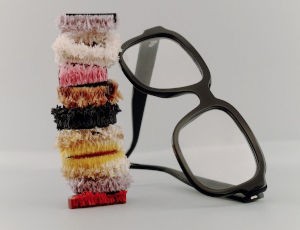 Sustainability is an essential pillar of the independent eyewear brand ANDY WOLF. They have always taken responsibility for people and nature - be it with local production in Hartberg, Austria and in the French Jura; with the in-house wildflower meadow, where eight bee colonies have now found their home, or with the brand-new e-charging station that has just been completed at the headquarters. At ANDY WOLF, sustainability means constantly taking small and large steps in the right direction.
ANDY WOLF is the first independent eyewear brand from German-speaking countries to receive ISCC Plus certification and to qualify for the new Acetate Renew program of the Italian acetate producer Mazzucchelli & Eastman. The ISCC Plus certification is obtained from the International Sustainability and Carbon Certification (ISCC) organization, which offers the leading certification system for the sustainability of raw materials and products as well as traceability throughout the supply chain. This certification is a prerequisite for participating in Eastman's Acetate Renew program. It is necessary to guarantee the origin of the raw materials used. It ensures traceability throughout the supply chain and prevents greenwashing.
Conventional cellulose acetate is widely used in the premium eyewear industry. It is kind to the skin and the environment, biodegradable and recyclable. Cellulose acetate is a polymer of natural origin. It is obtained from renewable sources such as certain tree species from responsible forestry and cotton linters. Traditional plasticizers are added to improve physical properties and processability.
Acetate Renew is the result of an Eastman project that spans the entire production cycle. The American corporation, a global specialty chemicals company, has developed a way of using molecular Recycling of plastic waste - such as cosmetic packaging, carpets, sportswear with a high percentage of plastic and acetate residues - to gain the raw material for the production of acetate sheets. By recovering plastic waste, a powder is obtained, which is the raw material for the production of cellulose acetate sheets. Acetate Renew offers the same performance as traditional acetate. It is a cellulose diacetate, which consists of 60% bio-based and 40% certified, recycled raw material. Compared to the traditional manufacturing process of acetate, there is a significant reduction in greenhouse gases and tons of waste do not end up in the garbage dump, but are returned to the product cycle. ANDY WOLF will gradually switch to Acetate Renew from 2022. ANDY WOLF plans to produce 23% of the entire acetate collection from sustainable material by the end of 2022, and 75% of all acetate frames are to be made from Acetate Renew by the end of 2025.