19 Nov 2021
Braille Device Introduced For Smartphones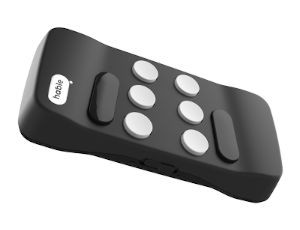 Dutch start-up company Hable recently introduced a device, called Hable One, that makes it possible for people who are blind or partially sighted to operate their smartphone by means of Braille. The Hable One also makes online banking more accessible, easier and safer.
The Hable One looks childishly simple. The black device – a kind of remote control – has a keyboard that consists of six Braille dots and two function buttons. The device is connected to your phone via BlueTooth. You can fully control a phone or tablet (both iOS and Android) with the Hable One. According to the company, the Hable One is the first product that gives people who are blind or partially sighted more control over their own lives. Co-founder Freek van Welsenis explains: "Hable comes from Spanish - it means to speak. And that's what the device does: type text in Braille into normal numbers, letters and punctuation. But it also has the word 'able' in it, and we like that, because the Hable One 'enables' people who are blind."
When Ayushman Talwar, co-founder, created the first prototype of the Hable One to help his blind grandfather, he never expected it to grow into a full-fledged start-up. The team therefore has one clear mission: to make the world digitally accessible for everyone.
The company recently launched the device in the UK with the assistance of The Royal National Institute of Blind People (RNIB).
RNIB senior retail products manager, Jennie Mather, said: "We're very excited to be working with Hable One as we believe this wireless braille keyboard is a game changer. New tech such as this really demonstrates how technology can play a vital role in increasing independence for blind and partially sighted adults and children."