24 Jan 2022
Scientists Insert Revolutionary Bionic Chip In Patient's Blind Eye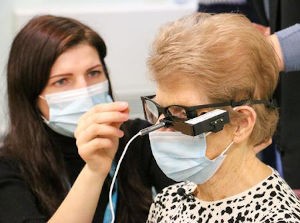 A breakthrough new implant has enabled a Moorfields Eye Hospital patient to perceive impulses in her impaired left eye. She is the first patient in the United Kingdom to get this novel technology as part of a European clinical study. It provides those with geographic atrophy (GA), the most common form of dry age-related macular degeneration (AMD).
The method entails surgically constructing a trapdoor through which a 2mm wide microchip is inserted under the center of a patient's retina. The patient wears special spectacles with a video camera hooked to a tiny computer attached to their waistline.
The chip collects and transfers the visual picture shown by the glasses to the computer. This data is processed by artificial intelligence (AI) algorithms, which instruct the glasses to focus on what they consider to be the primary item in the image. The glasses send an infrared beam via the eye to the chip, which turns it into an electrical signal. This signal is sent to the brain via the retinal and optical cells, where it is processed as if it were genuine vision.
This implant is checked four to six weeks after it is implanted by turning on the chip, and the patient should be able to see a signal at this point. They subsequently go through a rehabilitation program to learn how to use the new eyesight. Following treatment, patients may be able to recognize words that they were previously unable to recognize.
It is being tested on people who have lost vision in one eye because to GA. This is a progressive disorder with no available therapy. Dry AMD will impact 12% of people over the age of 80, whereas GA will affect 6.7 percent of those over the age of 80.
The first UK patient to benefit from this implant was an 88-year-old woman with seven children and eight grandchildren. She said: "Losing the sight in my left eye through dry AMD has stopped me from doing the things I love, like gardening, playing indoor bowls and painting with watercolours. I am thrilled to be the first to have this implant, excited at the prospect of enjoying my hobbies again and I truly hope that many others will benefit from this too."
Mahi Muqit, consultant vitreoretinal surgeon at Moorfields Eye Hospital, honorary clinical lecturer at the UCL Institute of Ophthalmology and National Institute of Health Research (NIHR) research investigator, added: "This groundbreaking device offers the hope of restoration of sight to people suffering vision loss due to dry AMD. The success of this operation, and the evidence gathered through this clinical study, will provide the evidence to determine the true potential of this treatment."
The NIHR Biomedical Research Centre at Moorfields Eye Hospital NHS Foundation Trust and the UCL Institute of Ophthalmology are funding this study.
Pixium Vision in France created the Prima System gadget utilized in this procedure.