23 Jul 2021
Luxottica and LVMH Fined for Anti Competitive Behaviour in France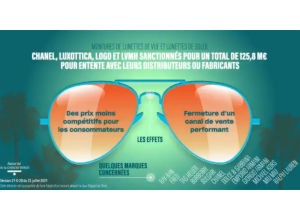 Following an investigation from the General Directorate for Competition, Consumer Affairs and Fraud Control (DGCCRF), the French Competition Authority sanctions several brands and manufacturers of eyewear, including the leading global and European supplier, for having imposed retail prices on opticians and forbidding them to sell on the Internet. The companies involved are Luxottica, LVMH, and Logo. Logo distributed the TAG Heuer eyewear brand. Logo was placed in compulsory liquidation in 2016.
LVMH and Logo (for the TAG Heuer brand), as well as Luxottica (for all its brands, including Chanel, Ray-Ban, Oakley, Prada, Burberry, Bulgari, Dolce & Gabanna, Armani, Armani, Michael Kors, Miu Miu, Ralph Lauren) have limited the pricing freedom of their distributors.
With regard to LVMH and Logo, the clauses appearing in LMVH's license contracts for the TAG Heuer brand and in the contracts for the selective distribution of Logo for this brand provided for a framework for prices and promotions practiced by opticians. Logo has, moreover, communicated recommended prices, set up monitoring of the prices applied by the opticians, and intervened with those who practice discounts. These practices concerned the periods from September 1999 to 2015 for LVMH and from 2002 to 2015 for Logo.
Regarding Luxottica, the Competition Authority noted that between 2005 and 2014, it had communicated to its distributors so-called "recommended" prices and had encouraged them to maintain a certain level of retail price for its products. In particular, Luxottica has drawn up lists of "recommended prices" and concluded, with its distributors, selective distribution contracts interpreted as notably prohibiting discounts and promotions during retail sales.
In addition, Luxottica imposed on its distributors certain restrictions as to the advertising they carried out on their prices and organized the monitoring of these prices, asking for the help of some of its distributors to "fight against the abuses observed". According to the manager of an optical store, this surveillance by competitors was like a real "price police".
Finally, opticians who persist in ignoring Luxottica's messages have been subjected to retaliatory measures: delay or suspension of deliveries to their stores, withdrawal of the authorization necessary for the distribution of some of its brands or even blocking of accounts for them. prevent ordering.
According to Competition Authority, these practices, anticompetitive by their very object, are serious. In particular, they involved the implementation of surveillance and retaliatory mechanisms. They have, moreover, affected end consumers who are partly captive and vulnerable, the equipment in prescription glasses, such as, in certain cases, sunglasses, being a necessity.
They have, moreover, caused certain damage to the economy, insofar as they related to well-known brands, affected intra-brand competition (price competition for the same product within different networks) for a period of time. long term, and concerned a significant portion of distributors, including major national brands such as Alain Afflelou, Krys, GrandVision or Optical Center.
The clauses of the license contracts concluded between Chanel and Luxottica (from 1999 to 2014) and between LVMH and Logo (from 2004 to 2015), as well as those of the authorized retailer charters signed by Luxottica and its authorized distributors (from 2002 to 2013) ) for the brands Chanel, Prada, Dolce & Gabbana, and Bulgari, prohibited the online sale of sunglasses and spectacle frames by opticians.
These practices present a certain degree of seriousness, insofar as they have had the effect of depriving opticians and end consumers of a sales channel generally characterized by competitive prices.
As a result, the French competition authority decided to impose a fine of 125 million euros on Italian eyewear company Luxottica, which is is now part of EssilorLuxottica, and of 0.5 million euros on Parisian luxury-goods company LVMH. The latter sanction was reduced after LVMH decided not to contest the charges.
EssilorLuxottica has already replied to this decision. The company states: "EssilorLuxottica firmly believes it has always conducted business according to the highest standard of compliance, always supporting customers, partners as well as the entire market. As such, the Company strongly disagrees with the Authority's decision and considers the sanction highly disproportionate and groundless. The Company will appeal the decision, confident that it will successfully demonstrate that the decision is wrong both from a factual and a legal perspective."