17 Sep 2021
AM Eyewear Introduces Kochi Collection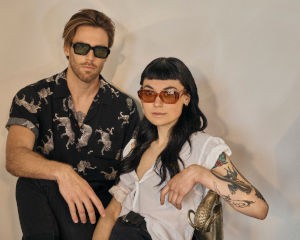 AM Eyewear has crafted a journey across time and continents in their Kochi Collection, evoking wondrous adventures through the vibrant cultures of a world that's inspired season after season of iconic frames from the cult eyewear label.
Early in 2020, just months before the pandemic began restricting travel, AM Eyewear founder Simon Ponnusamy embarked on a pilgrimage through India. Immersing in the majesty of Cochin Carnival, alive with dazzling dancers in colourful costumes, and exploring the sprawling marketplaces abundant in rare gems and divine crystals, Simon was moved by every facet of the experience. A year and a half later, those memories have come to life in AM Eyewear's new collection.
"Now more than ever, it's important to remember and celebrate the majestic beauty of our world," says Simon. "Precious gems and crystals have been used to enhance positivity and keep focus on the right things. AM Eyewear's new collection is distinctly avant garde, designed to reinforce that same positive mindset in anyone who wears them," he says.
"Our Kochi Collection is brimming with new colours, textures and facets reminiscent of those precious talismans. Our hope is that every frame can help someone find a new lens on current situations, and stay inspired to explore the beauty of the world," says Simon.
Kochi Collection expands AM Eyewear's beloved frames with a new range of angles, shapes and facets to suit every moment and memory. This stunning collection introduces a new range of colours, from opaque crystals to deep minerals, inspired by emerald, jade, amethyst, rose quartz, and sapphire hues, some with embellishments reminiscent of mineral marbling and gold flakes. Kochi also introduces a new range of coloured lenses to help shift perspectives, a new size and expanded colour range for last season's best seller Lukie, and continues the beloved favourite colour range of midnight black, evolved tort and bone white through their acetates.